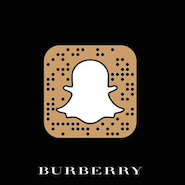 September is the month of fashion weeks across the world, New York, London, Paris, Milan... the most fashionable people in the world convene in one place.
Why do we care? Well for one, fashion trends drive garden trends. But instead of a garden trend, today we're talking social media trends.
For the first time ever, a brand, Burberry, partnered with Snapchat to feature its spring and summer 2016 line.
The Snapchat story documented the entire event, from behind the scenes preparation, to hair and makeup tips and even the models walking the runway. The story also featured celebrity guests attending the show, including models Cara DeLevingne, Kate Moss and Sienna Miller.
This is not the first time Burberry has been the leading fashion brand in technology. Many of the brand's marketing techniques are aimed at millennials. Why would an expensive, luxury brand try to appeal to younger generations who are often determined to find the best deals?
Continue reading to understand Burberry's unique marketing strategy.