If you run or manage a garden business, you want to be continuously thinking of new ideas and staying competitive. So, we believe it is imperative to stay on top of trends most relevant to you.
It's ideal to find trends in their beginning stages before they reach the mainstream news and the general public. As soon as the mainstream public starts calling something a trend, it may be too late.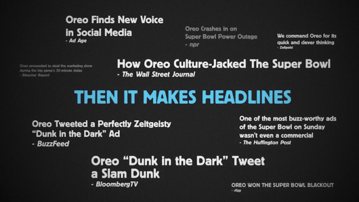 The key to effectively jumping on trend is preparation. You might not know exactly what is going to happen, but you need to have the tools in place so that you can recognize opportunity when it arises.
The perfect, enduring example of this is Oreo's dunk in the dark moment.
When you capitalize early on emerging trends, you put yourself at the front of the line to receive the monetary benefits from the burgeoning market that a new trend could bring.
Read more to learn how to be prepared to capitalize on trends.
Be Prepared
Google Alerts is the best free tool for discovering news related your brand or gardening business. but you have to be smart about sorting the interesting stuff out from the noise.
Have a plan in place for responding to breaking news or trends on social. You also want a plan for pitching journalists looking for a unique way to talk about a trending story. Who is your spokesperson, what is their bio, what is your point of view or unique and entertaining take on this emerging trend?
You want a way to know when:
A competitor launches a product or a campaign that quickly gains traction
A topic related to your brand becomes trending
A crisis starts to go viral (a trend now is for brands to "dunk" on each other, but consider that strategy carefully as not every brand can or should be Wendy's)
Be Relevant
It is essential to have good alignment between your brand messages and your approach to trending topics and events, whether it is a single tweet or a multi-channel campaign.
There needs to be a genuine connection between your brand and the topic that doesn't feel forced or irrelevant. (Forcing it can actually hurt more than it helps; at best your brand could become the focus of ridicule on social and at worse you've created your very own crisis comms situation.)
Be Creative
While it is important to be relevant, that doesn't mean you have to stay within a box. There are often opportunities beyond the obvious. When something races across trending lists, ask yourself if and how your brand might fit into the conversation.
Be Entertaining
Being entertaining doesn't always mean being humorous (there's nothing funny about domestic violence, as Digiorno unintentionally taught everyone), but in order to work, trending stories need to have an element that captures the imagination and stands out.
Be Heard
If you have something relevant to a trending story to share, let reporters know right away. Also keep in mind where journalists turn for information on what's going on: Google, yes, but also increasingly social media.
"46% of journalists think that social media is very important for monitoring other media/what's going on." (Cision 2017 Global Social Journalism Study, September 2017)
Because Google indexes in real time, you can create blog posts- that you also share across your social properties, which show up much more often in search engine results than they used to- that will show up in results right away. If they contain relevant and useful information writers will find you.
Measure Results
This approach is like any other PR tactic in that it should produce results that have an impact on your strategic KPIs. After launching a story or campaign around a trending topic or event, you should understand how it impacted metrics like share of voice, sentiment, and reach. The best PR analytics solutions make it easy to monitor other critical metrics like website traffic, form fills, and eventually customer conversion. Armed with this data, you'll know what works best.
Done right, capitalizing on trending topics and events is both effective and fun.
To learn what's trending in gardening in 2019, download our Garden Trends Report today!