I recently read a fantastic article from Hubspot about crafting the Perfect Blog Post.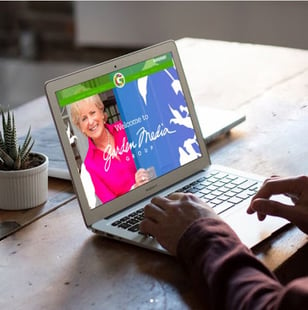 While we follow a number of these suggestions, being reminded of each step from start to finish is so helpful. So bookmark this page and get writing.
1. Start with the Perfect Headline
A headline grabs the reader's attention and compels them to click. People have short attention spans -- 8 seconds -- and the headline is one of the first elements that help readers decide if they want to click. In fact, 60% of readers don't read past the headline, which presents a big opportunity.
Here's how to write a great headline:
Conduct Keyword Research to Brainstorm a Working Title
The ideal blog post title length is 60 characters.
Headlines between 8 and 12 words are shared most often on Twitter.
Headlines between 12 and 14 words are liked most often on Facebook.
Headlines ending with a brackets - "The Definitive Guide to Business Blogging [New Data]" - performed 38% better than titles without that clarification.
If you're having trouble trimming down the length, run it through SEOmofo and Twitter to see how the title will appear when it's shared on social.
2. Meta Description
Meta description, or a short description you see to "preview" what the page is about, is very important. In the Hubspot analysis, they found the ideal meta description length is under 155 characters.

3. Featured Image
Featured images sit at the top of a blog post and are another element to draw readers in. The image should reflect what the story is about, intrigue readers, or provoke them. It shouldn't be too literal or obvious, and should be aesthetically pleasing, too.
Make sure you choose featured images that you're legally able to edit and distribute. Here are some great sites:
4. Introduction
The introduction needs to quickly hook your reader, let them know what your post is about, and be in your company voice. I love this intro and cute photo combo: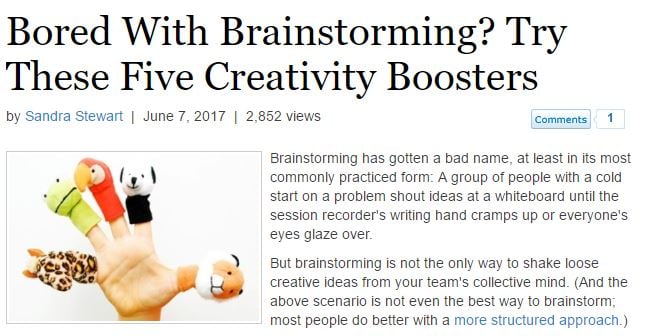 For more introduction inspiration outside of HubSpot Blogs, read posts on Medium and Buffer.
5. Sub-Headers
Sub-headers are another on-page SEO element that helps your post rank in Google Search. Sub-headers organize and break up your blog post into different sections to signal to Google (and your reader) what the post will cover.
Sub-headers should be written with H2 tags or smaller -- never H1 tags, which signal a title. Use sub-headers to split up sections of your blog post -- making sure to integrate the keywords you're using this post to target.
6. Body
The meat -- separated by sub-headers, of course -- is where readers will derive the most value. The ideal blog post length is roughly 2,100 words. Medium found that posts that took seven minutes to read earned the most engagement and attention, and serpIQ found that most of the top-10 Google results are between 2,032 and 2,416 words.
7. Data
Whenever it's possible, use data and numbers. Numbers written as numerals (23) instead of words (twenty-three) have been shown to attract reader attention when they quickly scan what they're reading online. Additionally, numbers represent facts -- which are unimpeachable and most trusted by your readers.
If you're using numbers or data in your blog post, add [Data] or [Research] to your headline for additional impact, as we discussed earlier in the post.
8. Multimedia
We've told you a few times that your reader is having trouble staying focused, so (if you've made it this far,) wherever it's possible use multimedia content. Images, videos, audio recordings, changing up the format of your blog post will provide additional value to your reader while making sure their eyes are focused on what they're reading and seeing.
9. Conclusion
When you're ready to wrap up and sign off, let your reader know the article is closing. Don't be lengthy, recap and provide more resources and guidance.
10. Call to Action
Finish your conclusion with a meaningful call to action (CTA) for your reader -- whether it's advice, a content offer, or a link to another related blog post. Use the last lines of your post to leave the reader feeling like he or she learned something from you -- and like there's even more to learn from you, creating the desire to click a link or CTA image and read more.
Thanks Hubspot for the great information.
And for more great information, download our 2017 Garden Trends Report.