Here at Garden Media we are huge fans of podcasts. From How I Built This, by Guy Raz, to the true crime genre, we are hooked.
In fact, we've written a post about our favorite blogs of 2018, why you should start podcasting, and we've created a list of our favorite PR and marketing podcasts.
But today, we are going to dive into our favorite gardening podcasts. And, we want to hear from you, too! What are your favorites podcasts? What are your favorite episodes? Let's hear it!
Read on for our eight favorite gardening podcasts of 2019.

Bloom and Grow Radio
A unique podcast specifically for indoor Plant People from Maria Failla, a "succulent killer turned crazy plant lady." Maria has a fun way of engaging with people. It must be her Broadway training (her day job is performing in CATS.) Her interviews with people in the indoor gardening community cover care tips, stories and lessons they've learned from caring for their plants. Each episode has practical and spiritual tips and stories that empower and inspire the listener to have their own houseplant collection.
Favorite episode: 66: 5 Tips for Planning Your Perfect Plant Shopping Day and Inclusivity and Representation in the Plant Community with @plantkween
https://bloomandgrowradio.com/podcast/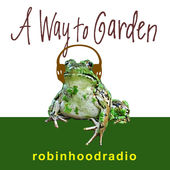 A Way to Garden
Margaret Roach made the last in 2018 and still reigns as the queen. Famous for her long career as a garden writer (she was the first garden editor at Martha Stewart), Margaret knows her stuff. Her podcast, A Way to Garden, attracts some of her 'friends' from her 25 year career, including plantswoman Claudia West to landscape designer Thomas Ranier. It is a must-listen for anyone interested in plants.
Favorite Episode: Her Q&A with Niki Jabbour on Succession Sowings
https://awaytogarden.com/category/etcetera/radio-podcasts/

The Joe Gardener Show
A long-time friend of Garden Media, Joe Lamp'l has been providing garden tips for all levels of gardeners for 10 years through his TV show, then his blog and now his podcast. Joe has an uncanny ability to appeal to both beginners and veteran gardeners alike. if you are a first-time gardener, you can grasp the concepts he presents really easily. But, if you're a pro, you will learn something from Joe, too.
Favorite Episode: 118 - the Power of Mushrooms (a 2020 Garden Trend)
https://joegardener.com/podcasts/

This new gardening podcast from the Royal Horticultural Society is still putting down roots, but it is already promising to be a top out of England (and that is saying a lot.) This half-hour show has modernized the organization by connecting with a younger demographic than their traditional member. The podcast interviews RHS in-house experts, answers questions from the public and offers seasonal advice.
Favorite Episode: Discovering hidden horticulturists, meeting the people in purple and fabulous floral art
https://podcasts.apple.com/gb/podcast/the-rhs-gardening-podcast/id605769651

Encyclopedia Botanica
Hosted by Hilary Dahl, co-owner of Seattle Urban Farm Company, The Encyclopedia Botanica podcast shares effective and efficient garden management techniques. Each episode is a lively conversation between Hilary and a guest. They break down seemingly complicated garden concepts so that anyone can feel empowered to take on new projects and develop a greener thumb. Our goal is to provide practical information for gardeners of all levels.
Favorite Episode: 102: Edible Garden Design with Stefani Bittner
https://www.seattleurbanfarmco.com/podcast

In Defense of Plants
Plant geeks unite! For the second year in a row, In Defense of Plants and its plant-obsessed host, Matt Candeias, have made our list. Candeias interviews people from the Royal Botanic Gardens, Kew, and botanists from all over the world to shine a light on the work being done to promote plant conservation. New gardeners beware, Latin is spoken, but if you can get past that, it's worth the listen.
Favorite episode: 226 - Cities Need Trees

On the Ledge
Jane Perrone tops the list once again. Jane used to be gardening editor at the Guardian in London, and her podcast is focused on indoor gardening, Jane covers everything from how to water to the trendiest plants. She answers listeners' questions and takes to Instagram often to give advice and tips on houseplants.
Favorite Episode: 99: houseplants for low light with Lisa Eldred Steinkopf and her new book Grow In The Dark

The Plant Based Podcast
This is not just another gardening podcast… this is The Plant Based Podcast! From my favorite tattooed podcaster across the pond, Michael perry, this podcast focuses on all things plants! From the plant-based diet, clothes made from plants, the wellbeing qualities of plants, or simply a fun shelf of cacti and succulents!
Favorite Episode: 5 herbs you can find in your neighborhood
https://theplantbasedpodcast.net/
Looking for more ways to stay in touch in the garden? Check out our 2019 Trends Report to learn more.