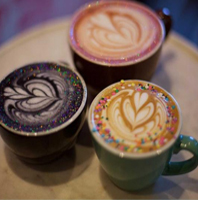 We work year-round to source trends for our Garden Trend Reports. And this year, we couldn't wait a day past April 1 to share some of the biggest trends we're predicting for 2020.
Grow a Garden on Your... Face
First it was garden crowns, and then it was garden beards, but the newest trend in flowers in your... garden brows. The trend features whimsical garden-themed accents fit for a fairy, including tiny flowers and butterfly stickers intricately placed on and around the brows, as well as a lush-green base that imparts a grassy effect.