Creative director Katie Dubow recently attended Hubspot's INBOUND 2017 inbound marketing conference in Boston.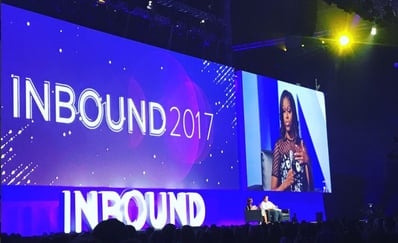 The conference was filled with lessons on the future of inbound marketing, the new features of HubSpot and better ways to reach customers with data-driven, unique content.
Energy was high. From the speakers (Michelle Obama, John Cena, Issa Rae, Billie Jean King, just to name a few) to the session topics (Courageous Creativity, The Quest for True Belonging, Content for the FOMO Generation and more) it is one of the most inspiring marketing conferences to attend.
Here are the big themes marketing professionals are talking about world-wide.
1. Video is projected to be 82% of internet traffic by 2020.
Yes, many garden brands, influencers and companies are now producing videos, but many more are still struggling to get started.
Video marketing is as common as taking a photo these days and garden brands MUST get started. We can't avoid the medium because we think it requires professional equipment, when in reality, people are watching millions of videos a day taken on the very phone that's in your hand.
Do not wait.
Here are a few tips to get started:
Decide whether you will hire someone or shoot the video in-house? If you're going to shoot the video yourself, the "best" video gear is the gear you can afford.
Struggling for blog topics? Marcus Sheridan of The Sales Lion says to start with the Top 50 questions frequently asked by your customers. If you don't already have these written as blog posts, write them! Then turn the articles into videos. Interview people in the industry you admire.
Publish it. Start with YouTube or Vimeo and then blast it to all social sites. Use thumbnails to link to the video in emails.
Aim for a video either under two minutes or between six and twelve minutes for maximum engagement.
2. Create an environment for 'courageous creativity'
This idea was presented by Refinery29's Piera Gelardi. Everyone has certain things or 'conditions' they need to let their creativity flow. Her's all begins in the 'Peach Pit,' her office and brainstorming hub.
She suggested we find ways to cultivate creativity within your team and turn those ideas into real results. Listen to her full talk here:
In addition, Ed Catmull, president of Pixar and Walt Disney Animation Studios spoke about creativity, "Everyone has the potential to be creative. Remove the blocks. Make it okay to make mistakes."
Here are some suggestions:
Provide an open forum on a regular basis where anyone can share their ideas without having to take into account budget, personnel, or any other barriers.
Go to people outside of your department, but who know enough about the topic, and pitch them your idea. They'll be able to provide more objective feedback. "You can't think in new ways if there isn't diversity of perspective and experience," said Elaine Welteroth, editor-in-chief, Teen Vogue.
Take an unfamiliar idea and make it familiar.
3. Provide what clients need they way they want it
1.3 billion
No, it's not the number of Snaps sent per day, but the number of people using Facebook Messenger each month. And, it's not just personal communication – two billion messages are sent between people and businesses each month, according to Facebook. Whether it's chatbots or real people messaging, it will only continue to grow.
A Hubspot survey found 71% of respondents were willing to use a messaging app to get assistance. We live in a culture of instant gratification and our clients are no different.
Provide clients and potential clients options for communicating with your firm in the way that they want to communicate with us – email, phone, and, yes, even chat.
Offer a messaging option on your site, either live chat or bot. It not only provides the immediacy that your clients want, but it provides additional data that you could use to sell to these clients and potential clients.

Customers will be more satisfied if they are under the impression that a "real" human is talking to them. Keep the responses in the same voice and personality of your brand. Just as if a customer service agent is helping them out.
4. Test. Analyze. Optimize. Repeat
"We have, mathematically, a better chance of dying in a plane crash than clicking on a banner ad," said Jeff Rosenblum, Founding Partner, Questus.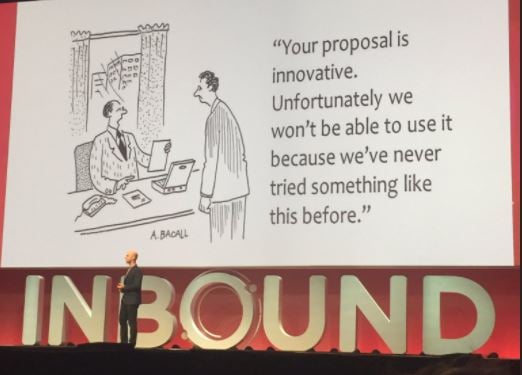 We have more data available to us then ever before, but we need to analyze that data, test new ideas and optimize them to achieve the best results.
Look at the top 10 pages on your website and optimize them for conversion.
Examine the best times to send your email. Currently, we have to do this for our entire list, but soon using AI there will be ways to automate sending emails to the best times for each individual contact.
Experiment with paid distribution and advertising. Discover the channels that work for your firm and double down on them.
Looking for marketing solutions for your business? Call us.