Today's guest on Grow! with Katie is powerhouse and indoor growing expert, Leslie Halleck of Halleck Horticulture.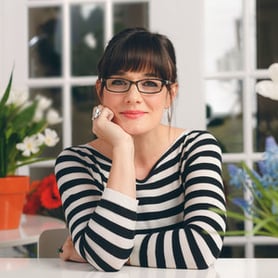 Leslie Halleck has 27 years of experience in different segments of horticulture; from research and trials, to landscaping, to garden center retail, to green industry marketing and business development.
Leslie's main focus now is to help companies grow with her consulting services and educating consumers through her books and social media.
Get your hands on Leslie's books "Gardening Under Lights: The Complete Guide for Indoor Growers" (Timber Press, 2018) and "Plant Parenting: Easy Ways to Make More Houseplants, Vegetables, and Flowers" (Timber Press, 2019) and check out here blog, Plantgeek Chic.
Leslie's strong educational background shows her commitment and knowledge of the green industry. She received her Masters of Science degree in Horticulture at Michigan State University and her Bachelors of Science degree in Biology from the University of North Texas. She is a Certified Professional Horticulturist via The American Society for Horticulture Science. She has also worked and published on post-impact vegetative research for both The University of North Texas and The University of Puerto Rico
In 2000, she launched Halleck Horticultural, an independent business through which she provides a variety of services to the green industry, including horticultural consulting, business strategy and marketing consulting, company and product branding, digital content marketing, and copywriting.
She has won multiple awards for writing, creative direction, and marketing from TOCA, the Turf & Ornamental Communicators Association; including the coveted Gardner Award for Writing in 2017.
During her career, she has written hundreds of articles for local, regional and national publications such as: Fine Gardening, D Home and Garden, Neil Sperry's Gardens, Edible Dallas & Fort Worth, Lawn & Garden Retailer, Garden Center Magazine, Greenhouse Management Magazine, Nursery Management Magazine and Produce Grower Magazine. She has also published scientific research in The Journal of Tropical Ecology, The Hosta Journal, Greenhouse Grower and Grower Talks.
She is a regular expert guest on many of the new popular plant-related podcasts, such as Bloom and Grow Radio, Epic Gardening, On the Ledge, and Joe Gardener.
Watch this episode of Grow! with Katie to learn about growing under lights!