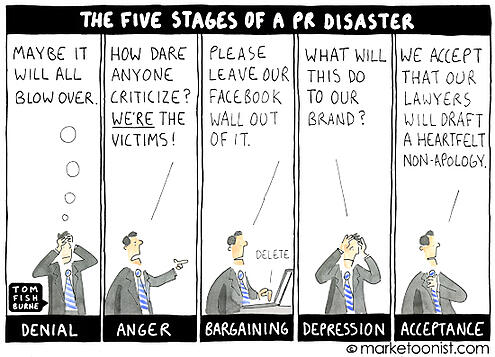 I love this cartoon! Recovering from a public relations disaster is really such a mix of emotions. But, of course, we know that nothing is going to blow over—and your business's Facebook page will never be left out of it! Keep dreaming, bud!
I've been waiting to write this blog for quite some time… In February, we saw an overload of public relations disasters: Anne Hathaway after the Oscars, Burger King's Twitter getting hacked, or Senator Marco Rubio incredibly awkward water break during a speech.
Disasters are no longer just broadcast on the front page of newspapers around the country; instead, instantly people flock to social media to share their opinions.
Rebounding from a public relations catastrophe looks a bit different than it used to. Make sure your company is ready to react if you end up being the target of an infamous misfortune with these smart public relations strategy tips.
Have a Fire Escape
If your garden business has a social media or public relations crisis, you should not be planning what to do. By this point, you should just have to walk out your fire escape.
Even if you think a disaster like this will never, ever happen to your business, have a fire escape ready! Formulate a plan for at least five different types of public relations disasters that could happen to your business. Devise a plan of attack with your company's influencers and your public relations team.
Then, when a disaster does strike, you aren't fumbling for a plan. Your plan should be well-rehearsed and easy to devise. You should have time to process your emotions, and then jump into the routine you've engrained into your mind—or at the very least, your smart phone!
Stop, Drop, Accept
Again, we truly hope your garden business is never in a sticky, scary situation like the public relations disasters we've witnessed this past month. But, if you are, you need to be able to process your emotions first and foremost.
Just like in that silly cartoon above, you'll be thrown into a frenzy. Your phone will ring off the hook, your email will be blowing up, and your social media accounts will be overloaded with negative reactions.
Stop, drop, process, and accept!
Allow yourself fifteen minutes to retreat to a quiet space and get zen. If you're in a panic, you won't do anyone in your business any good!
Then, accept that this event has happened. Never try to cover up the event. You can't travel back in time; all you can do is move forward with grace and poise.
Say Something!
Respond quickly to the event; the quicker you throw your company's voice into the arena, the better!
Don't let the media and the people fill in the blanks. Have your voice be heard! React quickly and respond to people's negative comments and insights. Travel to social media, and you'll find more negativity to work with than you ever hoped!
Share the Positive Vibes
People innately love free stuff, so get their mind off this flub with a freebie of some kind. A coupon, a special bogo sale, a free sample, anything.
Once you emit positive vibes, your customers will remember this over the disaster.
Be careful, however. In order for this step to work, you need to have addressed and dealt with the problem. Take action in the media and in your company. Begin to solve the disaster. Then, pull out the free stuff!
Check out SDL Social Intelligence's infographic for more telling data on dealing with a crisis!
Need help devising a crisis management plan? Give us a ring, and we'll share even more expert insight!
Special thanks to Tom Fish Burne for the funny, telling cartoon!