We now know there are a variety of benefits that come with decorating the workspace. Not only does it spark creativity and boost productivity, it also allows employees to show off their personalities.
My personal workspace reflects who and what I admire most. My desk – accompanied by a giant, colorful corkboard – showcases everything from inspirational Beyoncé posters to pictures of my family to houseplants.
A little desk décor makes all the difference in the world - and the Garden Media office agrees.
Continue reading to see what type of décor inspires the rest of the Garden Media team.
Suzi McCoy
"Most days you can barely see my desk. It's covered with notes, mail, magazines and newspapers. I love to cut newspaper clips and rip pages from magazines for trend inspiration and for clients. The rest of my office is an ode to our accomplishments over the years – everything from top media placements to notes from garden colleagues to pictures of Katie, Fred and Quinn. It's a colorful, creative space where we meet for brainstorms and discuss client projects."
Stacey Pierson
"I have my heart-shaped lucky bamboo houseplant from Costa Farms. It's a great plant for desks because it grows in water and needs low or medium light. Plus, my desk wouldn't be complete without a picture of my daughter to remind me how lucky I am to have her."
Tracey Brown
"Pictures of my family to keep them close throughout the day - and of course plants."
Katie Dubow
"I have a collection of items from my past that remind me of the people who influenced me professionally. A Christmas Story mini leg lamp from when I worked at Monet Jewelry and an iDog that my first boss at CBS gave to me. I have a mug filled with love notes from Garden Media's 'year of feeling the love.' And of course, a plant."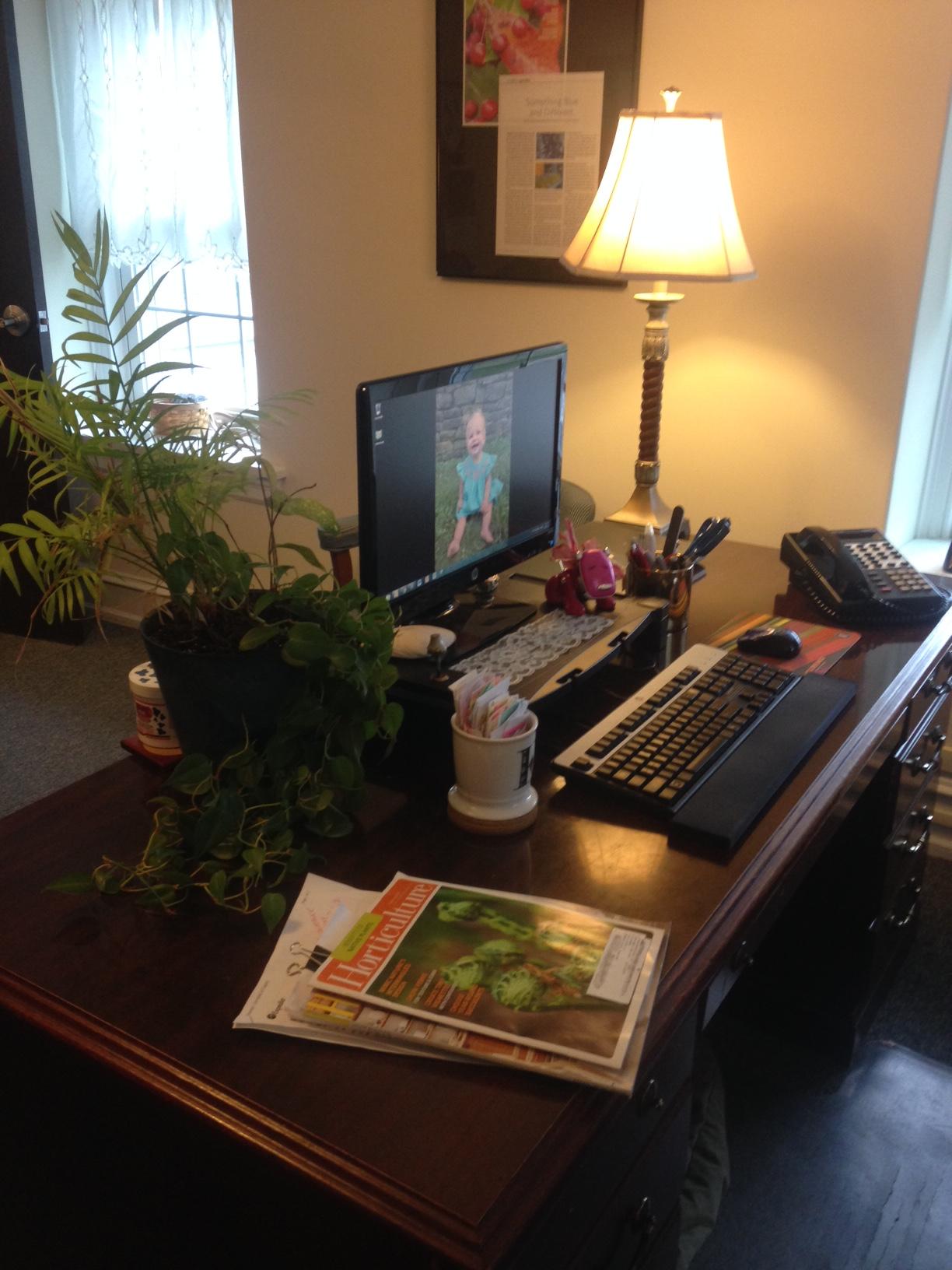 Jourdan Cole
"I love decorating my desk with pictures of my friends and family. Those photos remind me of good times and help keep me motivated. My peace lily adds a touch of green and brightens the whole space."
James Hammond
"I keep my desk decorations very minimal. It makes it easier to focus on working. I keep a plant and a mini zen garden on my desk for their calming nature. I also have a small lamp for ambient lighting which brings into focus the steam of my most favorite desk accessory, my morning coffee."
Courtney Kates
"I like to decorate my workspace with pictures! Looking at pictures from my Europe trip always brightens my day. I love thinking about how much fun I had there and how I much I grew from my experiences. If I ever feel stressed or overwhelmed, I remind myself that I went to a foreign country for six weeks with complete strangers. It's a pretty good confidence booster. I also have pictures of everyone I love – my family, my friends, and my dog, Noah. Having pictures definitely makes my workspace more comforting and calming."
Allowing people to have personality in their workspace attracts all kinds of creative folks, but especially Millennials. Learn other ways to market to them in our eBook.