For today's throwback trends post, we're looking back to 2008 to highlight a group of influencers that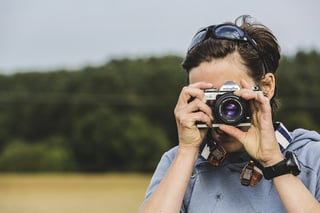 demanded individuality: The C Generation.
In this case, the C stands for Content, and this group is made up of collaborative, content creating machines who love individuality.
Here's how this group has shaped the garden industry over the past eight years.
Continue reading to learn more about the C Generation.
The C Generation
The "C" Generation embodied content, creativity and control. These people valued innovation and called on positives from the past to create a brighter future. These influencers flocked to collective experiences that allowed them to show off their skills and ingenuity.
The C generation was the first generation of true storytellers, as 44 percent of adults in the U.S. who used internet at the time created original online content. They felt that sharing an experience was valuable – if not more valuable – than the actual experience itself.
Flash Forward
Ideals from 2008's C Generation have only increased in popularity today. Social media has turned everyone into a content creator and essentially their own brand. Millennials and Generation Z still value creativity and individualism over anything else and a skeptical of brands who aren't authentic online.
The new "C" Generation have also evolved into the "Makers." The makers movement of today is based on creating experiences that are unique to each individual's taste. The Yuccies are a major player in this trend as they seek validation of their intellect and lifestyle, no matter the price.
Create Content
Today, user generated content is extremely valuable to brands. In order to attract and retain customers, brands must curate content that presents a relevant, uniform message.
Consistency and uniformity is ultimately what hooks audiences and keeps them interested.
According to social media expert Chelsea Krost, brands shouldn't have to ask a lot of their fans if they continue to feed their audience what it loves.
And the only way to truly know what the audience loves is to track social media performance using analytics. Analytics provide concrete evidence about what's making the outlet successful. Tracking data over a three month timespan allows social media managers to truly identify trends and successes.
We've known since 2008 that content is king. Read our eBook to learn how to create the best content on social.