Last weekend, I attended the Millennial Week Unconference in DC where I had the opportunity to learn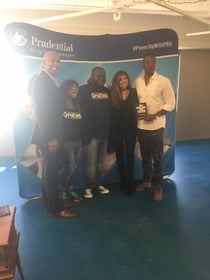 about leadership, social media strategies and branding from top leaders in the field.
Not only was the experience insightful to me on a personal level, it opened my eyes to new digital and traditional strategies for exceeding client expectations.
Here's a brief recap of what the speakers had to say.
Continue reading to hear what industry leaders has to say at Millennial Week's Unconference.
Chelsea Krost
Millennial spokesperson and brand consultant Chelsea Krost helped audiences answer the question of the day: How do I get paid to be me?
Chelsea talked strategy when it came to content creation and stressed the fact that user generated content can be a goldmine that benefits your brand.
Chelsea said that consistency and uniformity is important on social media and will ultimately help hook fans and keep them interested.
Key Takeaways:
Calls to Action:

If you feed your audience what it loves, you shouldn't have to ask a lot of them! Fans who truly admire brands and are interested in a website should – and will – sign up for things like blog updates and newsletters without having to be asked in each piece of content you prodice. However, she feels website pop-ups that ask for email addresses are better than a static call-to-action.

Engagement:

There's more to social media than just posting. While curated posts and user generated content attract fans, engagement is the key to retaining followers. Social media managers should engage audiences – reply to posts, retweet, answer questions – at least three times a day if they want to see success online.

Analytics:

Data, and trends pulled from analyzing data, ensure you're providing the sharpest outlook to your clients. Social media managers should track data regularly and analyze results over a three-month time frame. Social media is all about trial and error, and looking at analytics over several months at a time allows you to pin point what's working and what needs to be altered.
Kwame Jackson
Professional speaker and media personality Kwame Jackson shared with the audience how to cultivate your personal brand at work. He said everything in business is all about timing and offered tips on how to cultivate good habits in the office.
Kwame also said that opportunities aren't always obvious, adding that "sometimes opportunities come dressed in overalls and look like work."
Key Takeaways:
Personal Brand:

Your personal brand is created largely from a series of workplace habits. Your brand speaks for you even when you're not in the room. What are you saying?

Mentors:

In addition to providing key guidance and advice, mentors can help you navigate workplace politics and help you elevate your performance in the office. The most successful people seek the help of mentors throughout their entire career.

Staying Positive:

The key to positivity is creating a routine that makes you happy and keeps you healthy. Kwame said exercise, a clear list of weekly priorities and follow ups help him remain in a positive state of mind. Maintaining a positive attitude in the face of negatively is also a huge key to success.
Check back next week to hear what LearnVest Founder Alexa von Tobel had to say about entrepreneurship!
Successful brands own the online space. Download our eBook for expert social media tips.