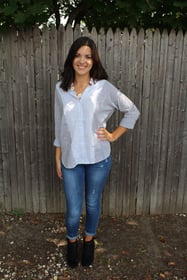 For this week's Speaker Series, we sat down with the newest member of the Garden Media team, intern Nicole Guarasci. Nicole is a Junior at the University of Delaware, majoring in mass communication with minors in advertising and journalism.
Nicole definitely stays busy at school! She is the public relations VP for her sorority Gamma Phi Beta, a social media ambassador for the University of Delaware (you can find her @BlueHenNicole on Twitter), and a Style Guru Intern at CollegeFashionista.
Through her experiences at the University of Delaware, Nicole has really found her place in the PR world.
Continue reading to learn more about Nicole's experiences at Garden Media.
How did you become interested in working in PR?
It took me a long time to decide to work in PR, but I'm glad I did. When I was a freshman in college, I was undecided and had no idea what my major should be, let alone a career.
It was through my English classes that I learned I loved writing and wanted to be in the communication field. However, my university at the time did not have that major or anything similar, so I ultimately transferred to the University of Delaware. My second semester in the communication major, I took an intro to PR class as an elective and fell in love. The rest is history!
What are your strengths and how do they relate to PR?
I am determined and persistent. I won't stop working on something until everyone is happy and everything is perfect. This plays into PR because I put all my effort into everything I do which will bring success and please clients.
I also have a creative point of view. I love designing things and seeing the world through visuals. This relates to PR because campaigns need to be unique and innovative to make a splash. Sometimes my ideas can be a little too crazy, but I make sure I edit them to apply to the company and their image.
What has been your favorite part of your internship at Garden Media so far?
My favorite part so far is getting of writing experience. I did not realize how much writing would be involved during my time here. Learning PR in the classroom is totally different than what it is in real life - which I found out the day I started at Garden Media!
I am glad that I have been able to learn and become a better writer here through writing press releases and Grow! Blog posts. I'm excited to see what else I'll be writing and how my skills will improve.
What is your favorite social media platform?
Instagram – I am obsessed! I am constantly scrolling through my feed and always looking for new accounts to follow. Each picture tells a story and lets me see into the lives of everyone that I follow.
Also, I love photography and editing and Instagram is the perfect outlet for that. I always make sure that each of my posts mesh well together and all my pictures are edited in a similar manner.
What's your dream job and why?
Honestly, my dream job would be somewhere that gives me an excuse to eat desserts all day. If there is any ice cream company that needs PR, I will jump on it!
I would also love to work in fashion and have always dreamed about working for a magazine in New York City. I have been reading Seventeen Magazine since I was in middle school and have always seen myself working there. Now that I'm older, I follow all of their social media sites and they do such an amazing job with all of their accounts. I would love to be a part of their team.
Download our eBook for more information on how to utilize Instagram and other social media platforms.