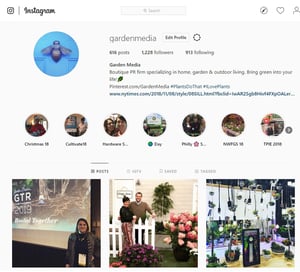 While Facebook still reigns queen for gardeners, Instagram is quickly overtaking the demographic. But many users - and brands - have found it difficult to build an audience on the platform.
Why is that? Well, for one, people are more selective with whom they follow on Instagram. It seems to be more personal of a platform. And two, the algorithm keeps your followers from seeing your posts. Yet, Facebook tell us 66% of the audience says Instagram is a place that enables interaction with brands.
So how do you do it? Well, Instagram's parent company, Facebook, has just published a new report on Instagram titled: How to Connect with New Audiences on Instagram. Pretty smart, eh? So, we read it.
Read more to learn how to win over Instagram audiences and build an engaged following.

First Facebook touts how Instagram is continuing to gain momentum, with 57% of the 21,000 people surveyed saying they're now using the platform more now than they did a year ago, and 44% saying that they'll use it even more in the coming year.
That comes as little surprise as Instagram added half a billion new users in the last two years and Instagram Stories, launched in August 2016, hit a new milestone of 500 million daily users this week.
But as we mentioned above, users are interested in connecting with brands on the platform.
"When we asked people what they associated with Instagram, some of their top responses were that the platform allows interaction with celebrities and influencers. Additionally, 2 in 3 respondents (66%) told us that Instagram is a platform that allows interaction with brands. These interactions might take the form of a snack company using polls in Instagram Stories to let fans vote on a new chip flavor, or a fashion brand reposting photos of chic #OOTD posts."
Remember, Facebook has been actively working to boost interaction with friends and family members to increase in-platform engagement. So these stats about Instagram that reflect the opposite are interesting.
In terms of overall usage, younger Instagram users are more likely to come to the platform daily, which is largely reflective of broader digital platform trends.
Also no surprise. But, see, older users are still fairly active. There's a broadening range of people on the visual platform.
Reaching Your Target Customer
Respondents indicated that they want to see the following types of marketing content:
Well, this makes sense, given the visual nature of the platform, and the focus on eye-catching content. And how perfect a platform for our visual industry.
If you are looking to utilize the platform, you need to familiarize yourself with what works for your brand.
Research the platform, look at what others in the garden sphere are posting, and more importantly what their audience responds to
Scan through the relevant hashtag lists to see what people are posting.
Set an adequate time frame for results
Stick to a schedule and build up response data.
What it Means for Marketers
No, building an audience on Instagram is not easy. And while liking posts or using the 'follow back' approach work to some degree, the best way to approach Instagram is with a strategy.
CHALLENGE YOUR ASSUMPTIONS.
Instagram isn't limited to a certain group of people. Marketers can reach many generations, as well as specialized and hard-to-reach groups like non-TV viewers. Learn more about how to reach relevant groups with our
Audience Insights
tool.
CREATE CONTENT THAT'S MOBILE FRIENDLY.
Instagram is a great place to build a community and showcase your brand's best assets. Make sure your content is interesting and actionable, creating ads that are short, relatable and custom-made for the platform. See how with these tips from Facebook's Creative Shop and the Facebook Blueprint course "Instagram Ad Formats."

EXPERIMENT TO REACH NEW AUDIENCES.


Brands have an opportunity to test out and experiment with new ways of communicating by exploring Instagram's many features and products. For example, you could try the stories format, where more than

1 in 2 people have said they're making more online purchases

as a result of using stories.
Read Facebook's full "How to Connect with New Audiences on Instagram" report here.
Download our guide for Instagram today