Welltality goes hand-in-hand with landscaping and gardening. Now, more than ever, plants are becoming an essential part of a healthy lifestyle and used for everything from décor to air purifiers to food.
A few of us from Garden Media visited three garden centers to examine how each store showcased welltality.
Continue reading to learn more about Garden Media's welltality field trip.
terrain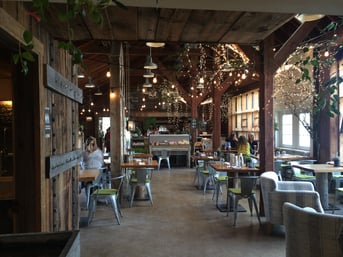 Every nook and cranny of terrain emulated the welltality trend.
Not only did the Glen Mills store sell a variety of plants, garden and home décor accessories, it also demonstrated exactly how to use the products in the home.
Whether you prefer plants in a vase on your table to hanging them from the ceiling, terrain showed you how to seamlessly intertwine green from your garden into your home with inspirational displays.
Terrain also reinforces how eating and growing organically can lead to a healthier life. The large selection of plants and seeds can be planted your backyard and eventually brought to the kitchen table to eat. Terrain also had its own garden café on site that served locally grown food.
This celebration of plants is exactly what the welltality trend is all about!
Home Depot
The Home Depot Garden Center emulated the welltality trend in a number of ways.
Not only did the garden center have a huge selection of indoor houseplants, including varieties from Costa Farms, the display also included a sign that read "Purify the air in your home," spreading the O2 for You message.
This reminded customers that houseplants not only add aesthetic value to the home, but provide significant health benefits as well.
Home Depot also provided a selection of veggies and herbs grown from non-GMO seeds that proves people want to know where their food is coming from.
By providing healthy, organic food options, Home Depot also gave its customers peace of mind.
In addition to providing a lot of different options, all of the plants were clearly marked with signs, making it easy for even the beginner gardener to start living the welltality lifestyle.
Homestead Gardens
Homestead Gardens Davidsonville location showcased welltality trend in almost every section of the store. From offering live chickens to its selection of organic seeds, the garden center catered to the needs of people living a healthy lifestyle.
The most inspiring display of welltality was Homestead's new "Modern Homesteading" department.
Modern Homesteading provides customers everything they need to grow healthy food indoors. Advanced and beginner hydroponic gardeners could purchase lights, pots and plants all in one place.
In addition to year-round growing, Modern Homesteading offers beekeeping, aquaponics, compost and vertical growing supplies.
The staff was also trained to answer specific questions about indoor gardening and steer people in the right direction when it came to hydroponics.
By staying on the forefront of the welltality trend, Homestead will a remain a successful one-stop-shop for all things related to a healthy lifestyle.
Download our 2016 Garden Trends Report to learn more about welltality.