Father's Day is Sunday! It's time to start shopping for the men in your life.
Now more than ever, garden brands and local independent garden centers should capitalize on this holiday because men, especially young men, are the new consumers in the gardening and home industry for 2015.
Here is a list of ways you can spruce up your home and garden center to attract dads, or those shopping for him.
Continue reading for more information on how garden brands can capitalize on Father's Day.
Attract Millennials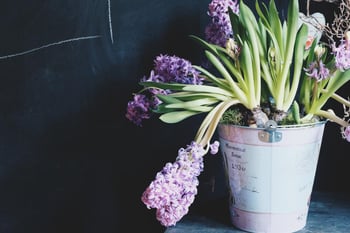 According to Goldman Sachs, the rise of millennials has led to an increase in home sales, and while many millennials say they will one day buy a house; the majority of them are settling for the renters market.
Therefore, millennials will love the new trend of portable planters for dad. They look at them as easy to move and something they'd have in their own apartment.
There are a variety of options on the market these days from sleek industrial looking to farmhouse style.
Chalkboard pots allow creative kids to express themselves by writing a message to dad. Once Father's Day is over, dad can label each herb and flower.
Another great choice for the modern dad is vertical gardens. They can be constructed out of old pallets, containers or even cloth shoe holders, so kids can create a growing masterpiece.
People are inspired by visuals. If someone walked into a garden center and saw these portable planter ideas being implemented, they would be more willing and excited to buy the materials needed for gifting to dad.
Make Dads Job Easier
Lighten dads workload outdoors with low-maintenance plants. Choose succulents and cacti because they only need to be watered once a week and typically won't outgrow their space or conatiner quickly.

These days, your average young adult doesn't know the first thing about what plants to buy or grow. By helping them understand dads needs and the benefits of certain plants, products will fly. If stores had a "self-sufficient" plant section, buyers might be less intimidated when thinking about growing their own plants.
Men Love Food
Ok, everybody loves food!
Growing your own food has only increased in popularity over the last decade. And since Father's Day is a time to relax - give dad the tools to do one of his favorite things: grill!
Being able to throw on some backyard vegetables next to a burger or season with fresh herbs is a fulfilling duty for the man who loves to provide wellness to his family.
Planting a vegetable garden is a low- maintenance task that can save money. If a customer is introduced to a product and/or idea that they think will save dad money, they will be more willing to listen and purchase. Especially millennials, maybe dad will give them the saved money instead!
No matter what you sell, Father's Day is a great time to celebrate our special dads. Happy Father's Day to you all!
Download our 2015 Garden Media Trends Report to see what is hot this summer!