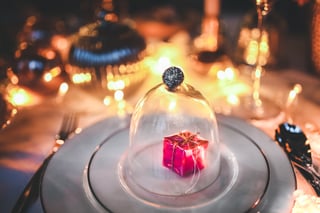 The holiday season is officially here, which means it's time to give.
If you work in an office setting, chances are you'll participate in an office grab bag or White Elephant sometime this month.
Similar to shopping for a friend or loved one, employees should devote time into thinking of a creative gift to give their coworkers.
Channel your creative energy into picking out the perfect holiday gift for your office mates.
Continue reading for tips on how to shop for the office secret Santa.
The Gift of Certificates
While some may think gift certificates aren't personal, a gift certificate to a local restaurant or shop near your office can go a long way.
According to The Muse, "Think about something that your teammates love and indulge in, and pick up a gift certificate. (Those cupcakes would be even nicer paired with a gift card for a half dozen more later, right?) And this doesn't just have to be food-related—certificates for spas, nail salons, stationery shops, or bars work just fine, too."
Add more flair to the presentation by wrapping the certificate in a bright or unusual box. Anyone will appreciate saving money at their favorite lunch spot.
DIY
While a one-size-fits all gift doesn't exist, it's possible to create something your co-worker will enjoy. There's always room for improvement when it comes to office décor. After all, we spend a lot of time at our desks.
Does your coworker need a place to store their office supplies? Is their morning coffee mug chipped and old? Take shopping into your own hands and create something your coworkers can show off all year.
Hand-written notes that accompany a DIY gift really stand out.
Shop Local
Nothing says "I love where I work" like giving gifts from a local store. Not only does it support local commerce, you won't find unique hometown gifts anywhere else.
Garden Media is headquartered in Kennett Square, aka "the mushroom capital of the world," which means artisan restaurants that serve world class mushroom soup are right around the corner. Find out what your work "hometown" is famous for and use that to your advantage.
Local gifts are also sure to impress that long-distance client who you only see a few times a year.
The Gift of Green

If you're stuck on what to get your favorite gardener on your holiday shopping list, check out our holiday gift guide:
The secret to gift giving is staying on trend. Read our 2016 trends report to find out what's buzzing in the industry.