Awards season is here, which means television audiences have another chance to see artists recognized for their work, admire celebrities as they walk the red carpet and most importantly, watch Tina Fey and Amy Poehler host the Golden Globes for the last time (or so they say).
These shows also allow viewers at home to participate in a classic tradition - speculating about wins. Garden Media's favorite Golden Globes win of the evening was Gina Rodriguez - Jane the Virgin – for Best Actress in Musical or Comedy. Not only did she beat out serious competition in her category, the award shed light on the industry's growing group of new consumers, Hispanics.
Just because televised awards shows are considered extravagant, formal events in Hollywood, doesn't mean recognition is only reserved for the rich and famous.
Those invested in the PR industry know that "awards" come in a variety shapes and sizes, and can be filtered through a lot of different mediums.
Continue reading to learn how PR insiders recognize clients, coworkers and members of the media for their hard work.
Send handwritten notes
In a world where email is the most convenient form of communication, handwritten notes shine. Not only are they fun to look at, this gesture of good faith serves as a genuine reminder that the recipient is appreciated.
Physically writing also helps decrease distraction.
According to Mental_floss, "when you're all GIF'd-out and it's time to work on that dissertation, there's something to be said for the elegant simplicity of having only a pen and paper in front of you... especially since that paper probably isn't plugged into the distraction-laden internet.
PR professionals should consider sending hand-written notes to clients as a "thank you" for things like signing onto the team or for going the extra mile to assist on a project.
Not all notes require a special occasion, though. Consider sending notes to clients, contacts or media just because you appreciate their cause and everything they do.
Coworkers benefit from receiving handwritten notes as well. Did collaboration with coworker result in a large media hit? Did someone organize a fun lunch? Gestures like this -- big or small -- could warrant a special thank you.
Team building activities like Garden Media's 2014 love note project – where staff members praised each other for things they did via a monthly handwritten note – served as both a fun an important event to boost company morale.
"Awards" like these are considered rare – and they're hard to forget. When it comes to showing appreciation, putting pen to paper is never a bad idea.
Support on Social Media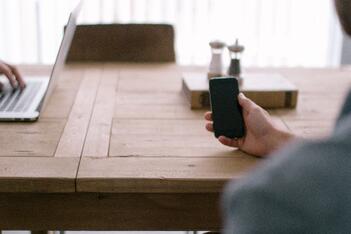 Remember to keep Journalists and other members of the media on the "thank you" list. While handwritten notes are always appreciated, social media is a great way to support the hardworking people PR pros pitch and connect with frequently.
Did a pitch result in a story? If so, retweet it and share to followers across all social channels.
More story exposure reflects positively on the reporter, the client (if they were mentioned) and the firm. PR professionals should also take the time to follow reporters and members on the media on all social platforms.
In addition, it's never a bad idea for PR professionals to send a quick email to a reporter if they enjoyed reading a story.
Download our Social Media eBook for more tips on how to connect with audiences and build your garden brand!