Today, it can be very difficult to stay updated with current events at the speed the media produces news.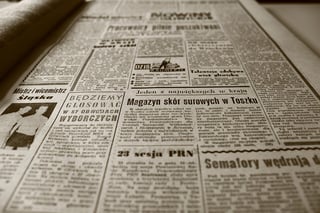 Our fast-paced environments and hectic lifestyles add to that difficulty, but it is important to stay on top of current events and industry news. Staying informed helps you better serve your client and understand their needs.
To ensure that you stay up to date, subscribe to any of the following sites. The beauty of these sites is that they have apps that make accessing the news a lot easier, because you receive notifications on your phone with quick blurbs of news as it occurs throughout the day.
It's a quick and easy way to find out what's going on, without dedicating hours to reading long-form articles online.
Continue reading to find the best places for busy PR pros to read the news.

TheSkimm: This site delivers short, simple, and brief news clips that are sent to you in a newsletter format every morning. It delivers popular news to its subscribers and is targeted at urban women ranging from 22 to 34- years- old.
CNN: This is a 24-hour global multiplatform network that provides news coverage around the clock. On the app, readers are able to watch live or previous news clips for free and receive play- by- play updates on big national and international stories. This network is usually associated with allegations of liberal bias.
Fox: This is a basic cable and satellite news television channel that offers 24/7 live news updates from its app. This network is usually associated with allegations of conservative bias.
Google News: This is a news aggregator powered by Google that selects stories from thousands of websites. The news is sorted by date and time of publishing and can be sent to emails as customized alerts set to the subscribers' specific requests.
Wall Street Journal: This is a business- focused, international daily newspaper. The app offers access to breaking stories across the world, the latest on business, finance, technology and politics and live updates on the stock market.
Looking for PR focused news? Look no further than these top sites.
Ragan.com: This is run by Lawrence Ragan Communications, Inc. and is the leading publisher of

communications, PR, and leadership development newsletters. It covers topics such as employee communication, organizational writing and editing, sales and marketing, media relations and motivational management. One of our favorite divisions is PR Daily which delivers news, advice, and opinions on the social media, PR, marketing, and media worlds.
PR Newswire blog: This is a company that distributes press releases to news organizations electronically. The company has a blog that posts relevant articles and advice to aid with aspects of the PR field.
PR News Online: This is a source that serves the communications industry. It focuses on developing PR and marketing professionals' skills in social media, crisis management, digital PR, measurement, employee relations, media training, CSR and more.
Another popular way to stay up to date with brands is to follow them on social. Download our eBook to learn how to build an audience online.