Public relations professionals can agree that some of the best emails – other than responses from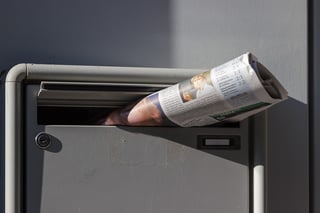 Journalists – come in the form of a newsletter.
Newsletters serve several purposes, and showing off content is just one of them! The letters that are curated correctly can help businesses achieve their goals by increasing leads and retaining more customers.
According to Hubspot,a successful newsletter fulfills a clear goal and inspires readers to click open at a high rate.
"Even though e-newsletters are one of the most common types of emails to send, they are actually some of the hardest to do right."
In the spirit of the new year and taking on new initiatives, we've compiled a list on how to create a newsletter people want to read.
Continue Reading for tips to create a meaningful newsletter.
You've Got Mail
According to Hubspot, marketers only ace email newsletter projects by following these important rules:
Evaluate: Does your company need a newsletter? Do you have the time, staff and resources to execute it correctly? If so, does it help your business by advancing your goals or leading to more sales? These are important questions PR professionals need to ask themselves before taking on a large task like this.

Find your Voice:

Figure out what kind of newsletter you want to send. What niche do you fill and what do you want your fans to get out of it? After you determine your audience, make sure your content is 90 percent educational and 10 percent promotional. Ensure that your subject lines are short and catchy.

Call to Action:

Once your content is filled, make sure that you give readers clear instructions on what you want them to do. Tell them how they can subscribe and how often they'll be hearing from you.
Read the full list here.
Grow with GMG
The Year provides us with an opportunity to GROW. And that's just what we plan on doing! We've always worked to provide you with the best content on our blog whether it's traditional posts, infographics or curated articles that spotlight our favorite brands.
We're expanding our efforts this year with a newsletter that expands on our content and ropes in even more of the garden industry and PR news that we love.
GROW! with Garden Media delivers the top GROW! marketing and PR blog posts, a recap of important and inspiring developments on the garden PR frontier and some of our proudest media moments.
I invite you to subscribe, share and provide feedback. We value your input.
Cheers to an exciting and enriched 2017!
Check out our eBook to learn how to create interesting content people want to read!