In this week's Trending Thursday post, we're reflecting a decade into the past when people started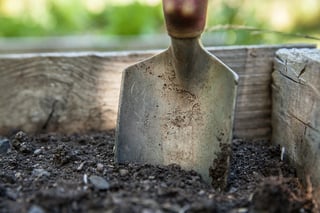 to recognize – and then alter – "reckless" habits.
As the country started to embrace holistic, natural options when it came to products and food, people started to pay attention to what was happening below the surface of their garden.
Consumers realized that the path to healthy plants started in the ground.
Reckless gardening was out and safe gardening was in.
Continue reading to learn more about the Safe Gardening trend.
Safe Gardening
In 2006, the concept of sustainability stretched far beyond the surface of the garden bed. As the holistic lifestyle trend took off, the idea of sustainability reached everywhere from the kind of plants gardeners grew to way they were maintained.
People quickly adopted sustainable gardening principles that worked to get their plants off chemicals. If they were opting for a healthier lifestyle, so were their plants.
People realized that great gardens started underground with nutrient-rich soil and opted for natural enhancers that got the job done but were also non-toxic and safe for the environment.
Naturally healthy lawns and gardens were in. Toxic chemicals were out.
A preventive, rather than a curative approach, to plant care was gaining ground. These preventative measures produced stronger and healthier plants that saved gardeners time and resources in the long run.
Flash Forward
It's clear that the sustainable lifestyle "trend" is here to stay.
A decade of research and developments has concluded that eco-conscious products are better for the consumers and the planet.
Clean gardening is the new normal and today's savvy consumers understand that what they put on their lawn and garden directly impacts their health. Today's clean gardeners opt for natural products that contain no synthetic fertilizers, pesticides and seeds.
They also use using clean techniques that ensure families, pets and the environment are not exposed to unnecessary hazards and pollutants.
Top lawn and garden companies like Espoma have developed products that go hand-in-hand with the clean gardening movement. Espoma's Safe Paws campaign helped people connect the dots between chemicals and how they can potentially harm pets.
Today's consumers are carrying on the legacy of the safe gardening trend by recognizing the benefits of indoor plants. It's now commonly accepted that houseplants provide a variety of benefits from cleaning the air of harmful pollutants to helping you concentrate.
A decade after the safe gardening trend was first identified, the industry has made major changes to keep this concept alive and well.
Safe Gardening took off in 2006. Read our 2017 Garden Trends Report to see what's buzzing now!