For this week's trending Thursday post, we're looking way back to a simpler time – at least when it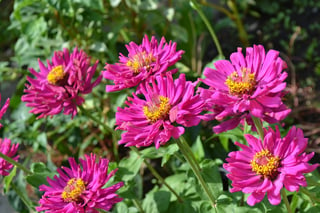 came to the garden.
In 2004, we stated that busy was out and classic, simple gardens were in.
Americans were weary of trying to put together mixed containers that ended up looking overdone and tasteless. They avoided pairing too many plants together the way they avoided "wearing plaids, stripes and big floral prints together."
The home gardener gravitated toward the mono-impact container idea. And with that trend came a simple outdoor concept.
Continue reading to learn more about Classic Gardens.
Classic Gardens
In 2004, Classic Gardens were in and Busy Gardens were out. The classic American estate or European style of gardening was making a comeback on a smaller – and even more compact – scale.
The mono-impact trend resurfaced in several ways. First, gardeners plated containers in the same color family to maintain a peaceful and cohesive look. If gardeners wanted more variety in their outdoor spaces, they would offset plant colors with bold containers.
They also coordinated plant textures to achieve a "mixed" yet put together look with one color plant.
The key to achieving the simple, classic garden was to keep all color pallets similar.
Flash Forward
Flash forward and "Classic Gardens" are refined into "Tidy Gardens."
People are taking a page out of the book of the top guide to decluttering from organizational consultant Marie Kondo and getting rid of things they don't need in the garden.
As the population beings to migrate into cities and smaller living spaces, gardeners are focusing on finding bliss in the act of gardening itself, not necessarily in how much they're growing. They're essentially finding joy in less.
The concept of Tidy Gardens does not mean trimmed hedges and clean corners. It simply reflects a global shift toward reduced consumption.
Tidy Garden enthusiasts follow eight pillars that are designed to maximize the impact of minimalistic look.
The eight pillars include:
Thin the garden

Declutter

Keep what you need

Get rid of plants past their prime

Eliminate harmful, synthetic pesticides or fertilizers

Respect your belongings, including garden tools

Create boundaries and defined spaces

Use a restricted palette of plants and hardscapes
This trend means that easy-to-grow, low-maintenance dwarf plants are poised to make a powerful comeback. What do you think?
Classic gardens made a comeback in 2004. Read our 2017 Garden Trends Report to see what's buzzing now!