For today's Trending Thursday post, we're taking a look into the not-so-distant past of 2014 where we
first identified decorating outdoors as a top trend.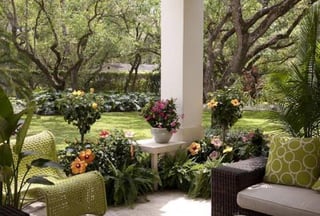 Social trends like lawn games, outdoor TV's, glamping and lawn parties inspired the gardening world – and consumers – to decorate the outdoors like any other room. Gardens quickly became an extension of the home.
Continue reading to learn more about the Dress Up Your Yard trend.
Dress up your Yard
The economy was experiencing a positive uptick in 2014, which meant people were investing money in sprucing up their homes – both inside and out.
Plants and accessories were seen as the new top decorations in the modern "outdoor rooms."

This renaissance drove demand for accessories like tabletop fountains, garden art, pillows, decorative planters and candle holders.

People living in a home with no yard or other means to have nature at their fingertips brought the outdoors in with houseplants that reduce indoor air pollution caused by paints cleaning supplies and other chemicals.

Nature was used to enhance the appearance of the home both inside and out as greenery quickly because a staple in top home décor trends.


Flash Forward
Though the idea has evolved, the concept of "dressing up the yard" is still as relevant as ever. It's now the norm for people to see their outdoor spaces as an extension of the home, especially with the rising trend in home downsizing.
People today dress up the yard to reflect their personalities and interests.

The 2017 trend when it comes to dressing up the garden is "Tidy Gardens." People are taking a page out of the book of the #1 New York Times best-selling guide to decluttering from Japanese cleaning consultant Marie Kondo and evaluating what brings them joy. And it doesn't stop inside!

The idea of Tidy Gardens does not mean trimmed hedges and clean corners. It means finding bliss in what you do, not in what you have.
A global shift toward reduced consumption is ultimately driving this trend. When it comes to the garden this year, quality is definitely better than quantity.
Dressing up the yard took off in 2014. Read our 2017 Garden Trends Report to see what's buzzing now!