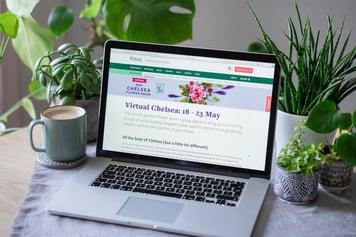 Events, conferences, trade shows, it's a common tool for buying and selling in the green industry. But it seems like every week we hear of another show cancelling due to COVID-19. Many are choosing to go virtual.
Yes, virtual events can be a headache to attend and plan for, they do offer some unique opportunities to build brand value and trust. The internet can be a strategic resource that can help your business pivot and adapt.
Event marketers agree (97%) — going forward, the most rewarding events will have a virtual component
Read on to discover how you can use online events in your digital marketing campaign and profit from them.
Bizzabo, the world's leading Event Success Platform, stated in its Evolution of Events Report that more than 80% reported greater audience reach as a positive effect from the shift to virtual.
The main benefits of online events are the ability to reach a wider audience, save money and keep track of your performance. Just think about the expenses you save on transportation, hotels, food, etc.
In addition, being digital by nature, a virtual event typically offers data analytics features, something that physical events cannot provide easily.
Make Friends
Social platforms dominate how people get information, and they offer marketers easy ways to connect with an audience and generate buzz before, during, and after events.
Placing ads and posting organically to social media to keep your fans up to do is a great place to start. But the real way to draw attention to your brand, influencer engagement.
Utilize an industry favorite to create some of the same organic communication and connection that happens at conferences and trade shows.
Develop a more personal, ongoing, and engaged rapport with the audience.
Create emotional connections and "sharable" connections that ripple out across the influencer's network.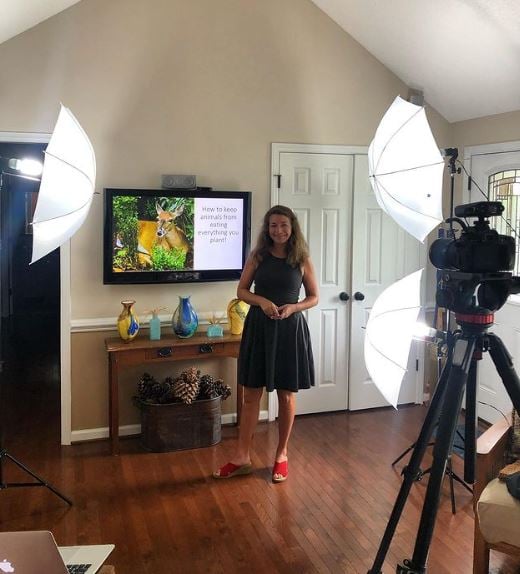 Speaker Brie Arthur in her "home studio"
Plan Accordingly
Instead of investing big on opportunities to connect "live and in person," you need to build around the unique dynamics of a virtual presentation and 24/7 ongoing social conversations.
Messages must hit at the right moment
Messages must be ongoing
Sponsorship
Sponsorship is a good way to promote your brand worldwide without spending millions of dollars
Appear on several spots during the various moments of the event, ie banners, overlayed logos, company video presentations during breaks, intro and closing moments, ads in the chat board and dashboard
Get a chance to be a speaker
Participate in VIP sessions offering added-value content
Not "One and Done"
Virtual conferences should be viewed as the beginning of long-term conversations full of potential jumping on or jumping off points. Chunk information so that targeted audiences can take what they want while not being stuck sitting through virtual meetings that just aren't what they're looking for. Think of it as the virtual equivalent of breakout sessions or topic-specific presentations. And, once again, produce these connection opportunities with a mind toward starting discussions rather than delivering standalone messages.
Keep the focus on connection and conversation. Make sure the messaging is timely and timeless, and build in multiple opt-in and opt-out opportunities. Do that and, while virtual conferences may not be as successful as in-person events, they will still deliver solid results.
Download our trade show guide for other great tips