We've all seen them; the accidental grammar or spelling mistake on a social media post.
A post where we knew that's not what the company meant, but how it came across. Case studies show that it can either harm a business incredibly, or it can be twisted to be funny or even harmless.
Companies have had to come back from some of the biggest mistakes, stating they are closing, but only meaning for the day or using a slogan that says #UpForWhatever associated with alcohol. These fauxpas need to leave company culture because they can do some serious damage.
Don't worry! There are editing tips from Hootsuite that help stop mishaps from happening before they begin.
Continue reading to save your company from social media mishaps.
Editing tips for social media posts:
Edit like a trauma surgeon:
This is essential to the editing process. Trauma surgeons prioritize patients based on damage in order to have the most success.
The same thing applies when editing posts. You may not have time to ensure you aren't spelling something incorrectly, but you should make time to be sure what you are writing is what you want to say. For example, you don't want to promote a competitor's brand or post something that will be harmful to yours. Focus on how it is written and be sure it is what the company stands for.
Edit like Beavis and Butthead:
Beavis and Butthead are basically the younger audience who still has a juvenile mind. Read over your post multiple times as if you are in middle school, snickering over the unintentional inappropriateness.
Fix anything that might be misconstrued before the internet gets to it.
Don't push it for a laugh:
Remember your audience consists of every age, race, gender, religion and economic status. Although social media is great for jokes, don't try to go over the limits on humor just to get attention.
The thing is, you will get attention, but not in the way you want. Dave and Busters can attest to this. This post should never have been posted on the internet, let alone spoken aloud: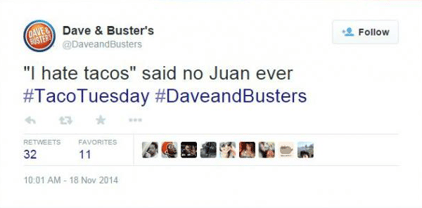 Use a second pair of eyes:
Some of the biggest mistakes that end up on social media are because the posts were not reviewed by more than one person. Writers typically know their weak spots. It could be misusing commas, continuously misspelling a word, or using the wrong "there" in a sentence.
Having people around to look over a social media post takes a few minutes however it can save a reputation for years. Think about that the next time you want to post something different.
Be straightforward:
Stay away from ambiguity as much as possible. Using words with a double meaning can come back to haunt you. It usually brings confusion and frustration to the audience, which is never what you want. Read it out loud to be sure it won't be misunderstood.
Even the dictionary apologized for this one: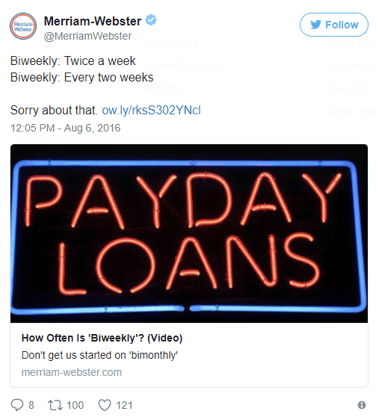 Keep a house style guide and stick to it:
Establishing a house style guide is beneficial for many reasons. It allows everyone on board to keep the same voice and style.
While you are creating social media content for a company, there is always a need to keep it consistent. You may think that you don't need established rules on what style guide you want to follow, but your audience will pick up when something is different. Depending on the size of the company, it could affect the engagement or could be called out for everyone to see.
A style guide also ensures any new hires can pick up on the style and voice and start rocking the social media when you cannot. As companies grow, you want to be sure one style is being followed.
Write well:
To be a good editor, you need to be a good writer. Practicing your craft allows you to get better and stronger every day. There's more to editing than just picking up misspelled words or double meanings. The social media accounts you handle need to gain the attention and traction to stay in the market.
Try to write well so many edits aren't needed for your work.
These are just a few tips from Hootsuite on editing for social media. Check out all 12 tips here. Thanks Hootsuite for the great information.
For more great information, download out 2018 Garden Trends Report.