As millennials step into becoming homeowners, Home Depot sees them ringing up more do-it-yourself projects at its stores.
A
recent
CNBC Report
on
Home Depot's latest earnings says the retailer had an "impressive increase" in same-store sales with people spending the most on tools, lumber, garden accessories and flooring.
While hurricanes and wildfires account for some increases, Home Depot said another reason was "younger shoppers who prefer DIY."
So if you're in the small group of brands who think millennials are not your target market, think again.
Read more to see how to engage with this DIY generation.
Brand Success
We all know millennial shoppers represent a large portion of the U.S. population. Brands, such as Home Depot, are starting to see benefits when they recognize millennials unique characteristics and adapt business practices to cater to this demographic.
During the fiscal third quarter, Home Depot's average shopper spent $62.84, up from $59.78 a year ago. Transactions under $50, which make up 16 percent of Home Depot's total sales, were up 2 percent. Transactions over $900, which account for 22 percent of sales, climbed 12 percent.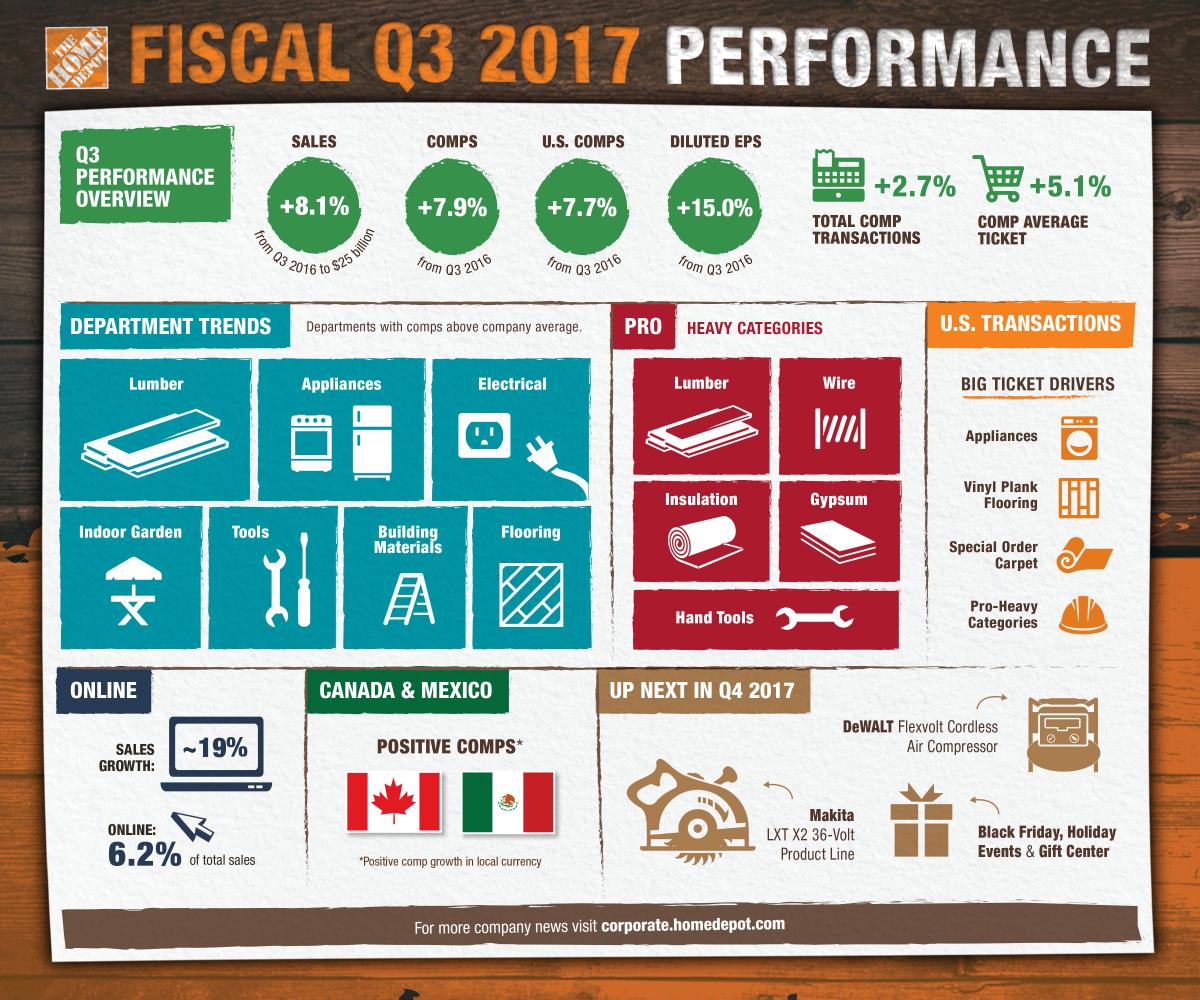 "We've seen a sequential improvement in the small ticket quarter-over-quarter ... tickets below $50, which have a tendency to lean more towards the DIY," Edward Decker, Home Depot's executive vice president of merchandising, said on a call with analysts and investors.
"The types of projects that [millennials are] going to engage in are very similar to any new homeowner, and in research we see that the millennial is showing an interest to be DIYers," said Bill Lennie, executive vice president of Home Depot's outside sales and service division.
What Millennials Want
CNBC reported that Home Depot rival Lowe's is rolling out "smart home" centers in its stores.
Products from tech giants such as Google, Sonos, Nest, Samsung and others allow homes to be more or less "controlled" by your smartphone or tablet.
What demographic do you think Lowe's is targeting with these "smart home" centers? Yes, it is the technology-savvy Millennials.
This demographic engages with content an average of 18 hours per day and in new ways, which creates even more touchpoints for garden businesses to reach them. Constantly connected, they want information, and they want it fast, in short, crisp, visually appealing and moving servings.
All this sharing makes Millennials influencers: they interact with everyone in their social sphere, including parents, friends, relatives and co-workers, on what brands and products to buy. And in turn, makes them promote your brand.
Millennials and Gardening
According to Ellen Wells, buzz!, "Whether it's DIY or "smart" projects,the horticulture industry has many options for the up-and-coming Millennial homeowner, like helping them create a green wall or start an indoor garden like the AeroGarden.
This new generation is poised to pick up where Boomers left off — grabbing their shovels, growing their own food, decorating their spaces with plants and re-invigorating the nursery industry.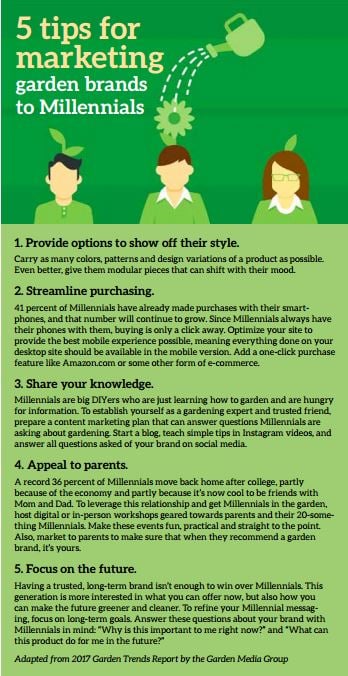 And when millennials become homeowners, they're spending more for renovations than baby boomers, according to an annual survey from Houzz & Home. The study found that the 25-to-34-year-old age group spent an average $26,200 in 2016 on home upgrades, up 7 percent year-over-year.
Winning millennials over the competition will be key to any brand's future, especially in the garden industry.
Learn how to market to millennials with our e-Book