I attended the Millennial Week Unconference in DC a few weeks ago where I was inspired by a handful o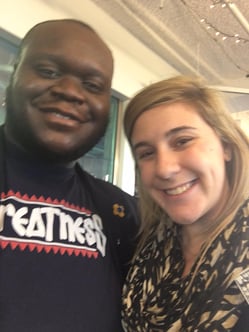 f speakers to stay motivated, stay positive and stay on top of my personal brand.
Here's a brief recap of what the speakers had to say.
Continue reading to hear what industry leaders has to say at Millennial Week's Unconference.
Lauren Maillian
Is there anything Lauren Maillian can't do? In addition to being an entrepreneur, TV personality and speaker, Lauren co-hosts #QuitYourDayJob on the Oxygen network and serves as a startup advisor to young entrepreneurs.
Lauren talked strategy and said the key to success when it comes to business is to keep it simple. She said that entrepreneurs are put in a unique and wonderful situation because they can make their own roles while building something from the ground-up.
Key Takeaways:
Be Self-Aware: The best entrepreneurs understand their strengths and weaknesses. When it comes to any business, the people who are successful surround themselves with a team that offers a diverse skillset. It's important to surround yourself with people who are good at things you aren't. This will give you a platform to truly excel.
Think Analytically: In order to succeed in any business, you have to take an analytical approach to decisions and look at things in black and white. Keep everything simple and put your ideas, your advisors and your team above all else.
Take Action: Anyone can come up with a good idea, the difference is how you act on it. No one can take away your passion, your drive and your love for the industry you're in. No one can take away the quality of your work. You'll always succeed if you stay motivated and keep a clear vision of your mission and goals.
Tiffany LI
As a law expert and attorney who specialized in tech companies, Tiffany LI stressed the importance of protecting your ideas. She said proper research and preparation, ultimately protects entrepreneurs when it comes to having their ideas stolen.
Key Takeaways:
Research: It takes a lot of willpower, passion and drive to take your idea and turn it into a series of actions that lead to a successful business. While ideas are always important, the action you take to ensure that they remain yours is just as crucial. Do your research before diving deep into your brand.
Proper Team: Seek advice from people you trust and people who specialize in your industry. Experts will always help you navigate things like trademarks and NDAs and help you "protect your ideas without being too protective."
Tech Changes: Not surprisingly, the law has not caught up with the ever-changing landscape of technology. So when it comes to trademarking things like hashtags, do companies have legal protection? The answer: There's no legal answer right now. The top two things companies can do to protect their branda are online research and stick to your vision.
Thanks to Millennial Week for a fun day full of insights!
Successful brands own the online space. Download our eBook for expert social media tips.