Welcome back to Social Studies!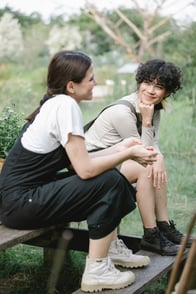 In this 9th lesson of our series on enhancing your brand's social media presence in the horticulture industry, we turn our attention to a crucial element of driving engagement online—choosing to be a positive influence in the digital realm.
As a brand on social media, you have the opportunity to shape how others see you, inspire people, and create a lively and supportive community. Bringing good vibes online builds trust and respect for your community. So, let's dive into some fundamental principles that will help you spread positive energy on the internet!
If you still need to do so, sign up for our weekly Social Studies email series to catch up on any lessons you may have missed!
Keep reading to discover valuable tips on creating a positive and lasting influence on social media!
Through your social platforms, you have an extraordinary opportunity to bring value, spread positivity, and be a part of the growth and togetherness of your gardening community.
Here are five fundamentals of maintaining a positive online presence for your gardening brand:
1. Take the Ego Out of Your Content
Authenticity and humility are key when it comes to creating great content. Instead of seeking validation or attention, focus on delivering valuable, relatable, and educational content. What is in it for the reader? Remember what truly matters to your brand: helping and connecting with your followers.
2. Provide Value to Your Followers
Your audience looks up to you for knowledge and inspiration. Make it a goal to share valuable gardening tips, tricks, and insights that enhance their lives and fuel their love for gardening. Creating content that focuses on value helps to establish trust and loyalty among your followers, enticing them to keep coming back to learn more. Constant sales, deals and product promos will not garner you an engaged and inspired audience.
3. Conduct Yourself with Compassion
In the digital world, you come across negativity and criticism at one point or another. When faced with such interactions, respond with compassion and empathy. Kindness has the power to ease tension and foster a positive environment for meaningful discussions and personal growth.

Need more guidance on navigating negativity? Review Lesson 5, where we explore this topic more deeply!
4. Spread Goodness in Online Interactions
Be sure to spread some positivity through your online interactions. Show some love by liking and thoughtfully commenting on content that resonates with you and brings a smile to your face. Your authentic engagement fosters a sense of community among creators. Remember, positivity is contagious and can create a ripple effect in the digital community.
Not only will you spread the love, but this active engagement on your page will help you with the algorithm, or how the platform organically pushes your content to people's feeds. Look back at Lesson 7 to learn more ways to boost your presence by working with (not against) the algorithm.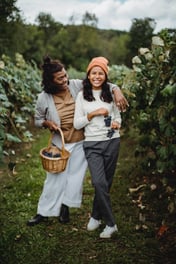 5. Share Content from Others in Your Niche
Celebrate the incredible work of fellow creators and brands in your gardening niche by sharing their content and giving them credit. Sharing and supporting each other lifts the whole community and promotes collaboration instead of competition.
To be a positive influence online, you must consciously try to be a force for good in the digital world. With your platform, you have the power to make a difference in your gardening community. Treat others with respect and spread that goodness through your interactions. It'll profoundly impact your followers and establish your community as a respectful, positive space.
Your influence extends beyond gardening tips; it encompasses how you inspire, support, and uplift others. Embrace the power of positivity, and watch your community flourish.
Stay tuned for our next and final lesson to dig deep into stories and the top ten must-use story ideas we see in the garden community for engagement and storytelling.
If you stumbled upon this blog and still need to sign up for our newsletter, do so here. Don't miss out!