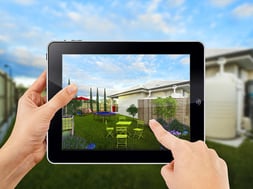 With an increased connection between gardening and technology, gardening apps are on the rise. They help users identify plants, gain gardening knowledge with tips and DIYs and virtually design their garden. The apps vary in price range and typically become more expensive for more advanced gardeners.
Most gardening apps fall in three main categories: plant identification, gardening tips and garden design.
These apps are designed to make the gardener's life a little bit easier. Here are some of our favorites from each category.
Continue reading to learn more about the top gardening apps.
Plant Identification
Free apps like Leafsnap, NatureGate and iPflanzen have large plant photo libraries. Plants can be identified by taking a photograph through the app or entering characteristics such as leaf shape, flower color or plant height.
Plantifier is another identification app with a slightly different method. It is a crowd-sourced app in which a user can upload photos of plants and other users can help to identify them. Plantifier also saves uploaded photos, so if one goes unidentified, it can be referred back to at a later date, perhaps at a local nursery.
Gardening Tips
A number of gardening magazines and online sites have created free mobile applications with articles, images and DIY projects. Southern Living, Better Home and Gardens, Organic Gardening Magazine, House & Garden and Mother Earth News are just a few of the publications that have developed mobile apps for Androids, iPhones, iPads or all three.
Garden Design
The most innovative applications are the garden design apps. They typically range in price from $3.99 to $14.99. Apps offer unique features to help users design, improve or track their garden progress. These are our four favorite garden design apps.
Garden Designer provides users with many symbols, including different plants, buildings, paths, ponds and furniture to visualize their ideal garden. Users can change the dimensions, color and shape of the objects to create an even more customized design.

iScape allows users to take a photograph of their house, backyard, or any area in which they wish to garden and add plants, water, grass or gravel to the desired areas. This app provides not only a visual of the garden, but also how it will complement the surrounding areas.

Garden Plan Pro uses location to determine which plants can be grown in the current geographic area and climate. The app can save up to five years of information, allowing users to track their successes and failures from previous seasons.

Garden Tracker-Bumper Crop is especially useful for vegetable gardeners. The app allows users to input a list of vegetables they have planted and keep track of specific watering, fertilizing, and harvesting dates.
As technology becomes increasingly integrated into every aspect of our lives, we can definitely expect to see more functional and innovative gardening apps in the future.
Download our 2016 Garden Trends Report to learn more about integrating NaTECHure into your life!