Here at Garden Media, we are huge fans of podcasts. From true crime, to pop culture, to self help and advice, we are hooked.
According to Convince and Convert, there is a huge jump in active podcast listeners in 2020. 75% of Americans are now familiar with podcasting; this is approximately 212 million people and an increase of over 10 million in just one year. Could this be due to the stay-at-home orders? I think so.
Today, we are going to dive into our favorite gardening podcasts. And, we want to hear from you, too! What are your favorites podcasts? What are your favorite episodes? Let's hear it!
Read on for our eight favorite gardening podcasts of 2019.

Bloom and Grow Radio
Back for another year is a unique podcast specifically for indoor Plant People from Maria Failla, a "succulent killer turned crazy plant lady." Maria has a fun way of engaging with people. It must be her Broadway training. Her interviews with people in the indoor gardening community cover care tips, stories and lessons they've learned from caring for their plants. Each episode has practical and spiritual tips and stories that empower and inspire the listener to have their own houseplant collection.
Favorite episode: 108 - How to Use Plants to Create Restorative Environments
https://bloomandgrowradio.com/podcast/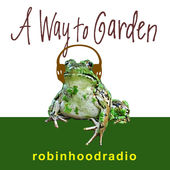 A Way to Garden
Another reoccurring favorite is Margaret Roach with A Way to Garden! She made the list in both 2018 and 2019, and still reigns as the queen. Famous for her long career as a garden writer (she was the first garden editor at Martha Stewart), Margaret knows her stuff. Her podcast attracts some of her 'friends' from her 25 year career, including plantswoman Claudia West to landscape designer Thomas Ranier. It is a must-listen for anyone interested in plants.
Favorite Episode: The Garden as Refuge in a Pandemic Year, with Adrian Higgins of the Washington Post
https://awaytogarden.com/category/etcetera/radio-podcasts/

Gardens 'N Plants
Two powerhouse friends of Garden Media, Peggy Riccio and Teri Speight, join forces to talk about plants, gardening, public gardens, nurseries, books, and events in the Washington DC metro area. Together they discuss what is happening in the garden and places they have visited. Both Peggy and Teri are professional garden communicators: Peggy is a horticulturist and Teri is a Master Gardener. So you know that you are in good hands with them.
Favorite Episode: Plants We Wished We Hadn't Planted

If you are looking for a quick daily (yes, daily) dose of gardening wisdom, you need to check out The Epic Gardening podcast. Kevin Espiritu, the host, has a "simple" goal of helping 10,000,000 people around the world learn how to grow plants. His to-the-point episodes cover a wide range of topics, from pest prevention, to hydroponics, to plant care guides… as long as it has something to do with gardening, he will talk about it on the show!
Favorite Episode: Gardening Around the World
https://www.epicgardening.com/podcast/

Cultivating Place
Jennifer Jewell, the host, creator and writer of Cultivating Place: Conversations on Natural History and the Human Impulse to Garden, brings conversations to celebrate the direct relationships with the dynamic processes of the plants, animals, soils, seasons, and climate factors that come to bear on a garden and how these connections support the places we cultivate, nourish our bodies, and feed our spirit. You're going to want to give this one a listen.
Favorite Episode: Trusting the Nature of our Gardens and Selves, with Camilla Jorvad
https://www.cultivatingplace.com/blog-1

In Defense of Plants
Plant geeks unite! Back on our list, for the third year in a row, is In Defense of Plants and its plant-obsessed host, Matt Candeias. Candeias interviews people from the Royal Botanic Gardens, Kew, and botanists from all over the world to shine a light on the work being done to promote plant conservation. New gardeners beware, Latin is spoken, but if you can get past that, it's worth the listen.
Favorite episode: 273 - Revolution in the Garden
Down The Garden Path
As landscape designers, Joanne Shaw and Matthew Dressing think it is important and possible to have great gardens that are low maintenance. They discuss down to earth tips and advice for your plants, gardens and landscapes. On this show, they try to help educate you seasonally to manage your garden and landscapes, engage with Garden Authors and educate themselves right along with you as we all learn together about interesting topics on the environment.
Favorite Episode: Low Maintenance Gardening
https://downthegardenpath.libsyn.com/
Let's Argue About Plants!
Brought to you by the editors of Fine Gardening, this fun, informative podcast tackles all things topical in gardening. You'll listen to the insights (and arguments) of Editor-in-Chief Steve Aitken and Senior Editor Danielle Sherry as they discuss various horticultural subjects on a deeper level. You will also hear from today's leading horticultural minds who will offer their wisdom and opinions about what you might want to grow in your garden. We guarantee that you'll be entertained and feel like a better gardener.
Favorite Episode: 68 - Plants for Nooks and Crannies
https://www.finegardening.com/series/fine-gardening-podcast-lets-argue-about-plants
Looking for more ways to stay in touch in the garden? Check out our 2021 Trends Report: The Great Reset to learn more.