The new year has begun and that means trade show season! Unfortunately, with the ever-evolving pandemic, there is still a lot of uncertainty about how the shows will unfold.
The first of the year is always MANTS, the Mid-Atlantic Nursery Trade Show, celebrating its 52nd show in Baltimore. With masks on, thousands of attendees joined the hundreds of exhibitors for three days of shopping, buying, and relationship building in the horticulture industry.
Like always, MANTS did not disappoint and there was no shortage of hot new plant releases and cool new tools and products. No worries if you couldn't make it, we've wrapped up a "To-Go" list of some of the most eye-catching new products from the show.
Star® Roses and Plants:
Star® Roses and Plants showcased exciting new plant releases from Star, Bloomables®, Bushel and Berry®, and new Petite Knock Out®.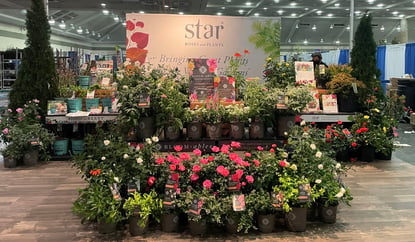 Two introductions from Bloomables will catch your eye!
Dragon Fire™ has showy scarlet flowers and blooms all summer long. This pollinator attractor is tough, tolerant of drought, heat, humidity, and coastal conditions. Hardy in zones 8-11, this compact, mounded shrub finishes about 2-3' tall and wide.
Sitting Pretty™ Rose is another gorgeous introduction with its bright pink, fragrant blooms on rich green foliage. With its good disease resistance and habit, it's perfect for containers or landscapes. Hardy in zones 4-11, this traditional rose is full-grown at 3-4' tall and wide.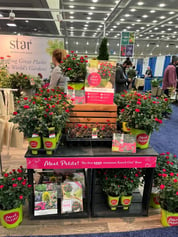 From Star® Roses and Plants, Emerald Squeeze™ Thuja, made its debut as the perfect greenery for small landscapes and hedge spaces. With excellent color and dense, compact, upright habit, this shrub finishes at 8.5' tall and 4' wide (20 years). Hardy in Zones 4-8, Emerald Squeeze™ makes a great addition to the collection.
The biggest buzz from the booth was over the new Petite Knock Out® Rose. With an abundance of fire engine red blooms on a tight, compact plant, finishing at just 18", this new plant is here for small spaces and container gardening. All the tried-and-true characteristics from the beloved Knock Out® family, in this small but mighty shrub. We can't wait to see how creative gardeners get with this one!
Power Planter:
Power Planter had a great display of their made-in-the-USA innovative augers, generating lots of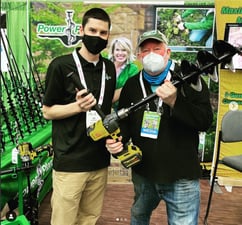 foot traffic at their booth. Our team stopped by and caught up with the owner of the company, Greg
Niewold, to see how the show has been.
"MANTS continues to be the premier show to conduct business with both new and current customers. Even during this pandemic, they enable exhibitors and customers to meet face-to-face and have a safe and successful event, which is to be commended."
MANTS has always been known as the show for business so it is great to see that even during uncertain times, we can count on this show being a success.
Thriving Design: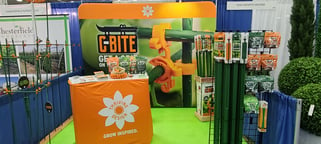 Speaking of innovative garden products, first-time in-person MANTS exhibitors Thriving Design showcased the company's vibrant line of products at the show, anchored by their signature C-BITE C-style clips. Products on display at their booth included C-BITEs in a range of sizes and colors, ready to connect handily to garden stakes and plant ties, as well as Thriving Design's popular Plant Support Kits.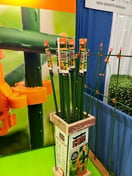 Co-founders Jason and Morgan Rider were thrilled to showcase their new Monster Plant Support Kit, debuting in January 2022. This kit provides home gardeners and professional growers with the C-BITEs, stakes, and accessories needed to build bigger custom plant support structures than ever.
Another highlight is the new C-BITE packaging: resealable and waterproof bags that make indoor and outdoor storage of C-BITEs easier than ever. Plant Support Kits also offer new streamlined packaging.
Plant Development Services, Inc.:
There was a lot of action at the Plant Development Services, Inc. (PDSI) booth this year. With many new plant releases from their consumer-loved Southern Living® Plant Collection, Sunset® Plant Collection, and Encore® Azalea, as well as the official launch of their new brand, Better Boxwood® there was a lot to see!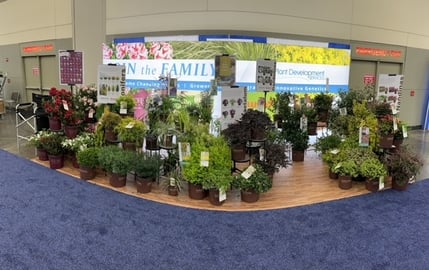 Partnering with Everde Growers, the Better Boxwood® program is *new* to trade for 2022. The collection includes four unique cultivars, representing the first scientifically bred blight-resistant boxwood. Liners are available this spring to growers and will be available to consumers nationwide in 2023.
New additions to the Southern Living® and Sunset® Plant Collections were also on display. Our picks are: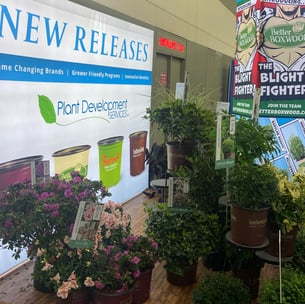 Mock Orange Pearls of Perfume™ is an elegant, fragrant shrub that dons beautiful white blooms in spring, attracting pollinators near and far.
Green Valley™ Arborvitae is a slow-growing evergreen selected from hundreds of Western Cedar seedlings for its growth habit and disease tolerance.
Snowbank™ Indian Hawthorne joins the Clean Sweep™ family, bringing disease resistance to this tough landscape staple. Snowbank™ grows to be 2-3 ft tall in a dense mound of dark green foliage with attractive white flowers in the spring.
Exclusively for the Sunset® Plant Collection – the new Eternal family of Grevilleas. Three introductions, Eternal Blaze, Eternal Pink Glory, and Eternal Sunshine, offer unique bright colors for gardeners to choose from to attract bees and birds.
Liners of all new 2022 plants will be available to licensed growers in the spring of 2022 and available to consumers beginning in 2023.
With all these exciting new products, 2022 is ramping up to be a great year in the garden. Which product are you most excited about this year?