For this week's speaker series, we sat down with Tracey Brown, Garden Media's office manager.
While her title is short, Tracey wears an endless list of hats when it comes to the office and making it run smoothly. From bookkeeper to resident office baker, there's nothing she can't do. It's why we call her our "BeeKeeper."
Continue reading to learn more information about Tracey and the role she plays at Garden Media.
What is your "strength?"
That's a tough question. I am a big picture thinker which really helps me look at things from beginning to end, even if it is just a concept. I think some people get too focused on the immediate and don't think long term.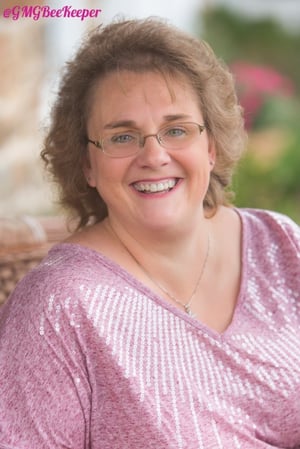 Another strength would be that nothing is beneath me, meaning I will help anyone with just about anything. I believe we should help one another whenever we can, the benefits far outweigh the costs in MOST situations.te and don't think long-term.
How can people learn to see the bigger picture when they take on a task?
I think it is possible to start to see the bigger picture just by slowing down.
Visualize what it will look like in progressive stages using goals or tasks as guidelines, talk it out with someone who has a general understanding of what the end goal is, and instead of being focused on the immediate, step back and focus on the outcome.
What is the most rewarding part of your job?
Helping Suzi and my co-workers any way I can. Whether it's by using my creativity, computer knowledge, information I've gathered over the years, or just being a sounding board to bounce ideas off of, I like knowing I've helped make someone's job a little easier.
Why is gardening important?
Gardening keeps people connected to the earth. I think if you teach a child about gardening at an early age, they learn to respect the earth and our natural resources. Gardening also teaches patience, how to care about and for something, success and sometimes failure.
If you could go back in time, what would you tell your younger professional self?
The only regret I have is not going to college to get an actuarial science degree - so I'd tell myself to go after what I truly want and not settle for the easier path. Hard work pays off! Always give 100 percent and find something you love to do.
What do you see for the future of Garden Media?
I see Garden Media continuing to evolve with the needs and wants of the customers. Trying new things, learning new tools and staying ahead of the curve is something we strive for as a company.
Garden Media continues to expand its abilities and reach out to new contacts in the ever changing world of public relations. From newspapers and magazines to blogs and twitter feeds, the Garden Media team builds relationships to stay on the pulse of what's going on.
Download our 2015 Trends Report to learn what's buzzing in the industry.