Your Weekly Guide to Thriving in Social Media Marketing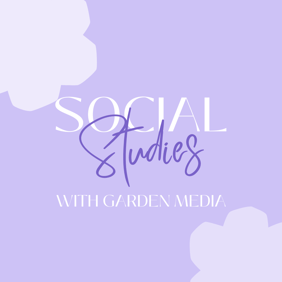 In the fast-paced realm of social media marketing, maintaining a competitive edge is crucial for businesses striving to expand their online reach. We are delighted to introduce our new Social Studies program—a series of ten carefully curated emails designed to elevate your social media presence in the vibrant world of gardening- Sign up here.

Our new 10-part series is tailored to equip garden businesses with invaluable insights, expert advice, and actionable strategies that will boost your social media following. By subscribing, you gain exclusive access to a comprehensive toolkit, empowering you to craft a successful social media presence, unlock the potential of captivating content through photography and videography tips, and establish a profound connection with your audience.

Social media trends and best practices are constantly evolving. With our new newsletter, you'll stay ahead of the curve by receiving up-to-date insights and expert advice directly in your inbox each week. Whether it's new social media platforms, changing algorithms, or trends, our goal is to equip you with the knowledge and tools you need to adopt, create, and thrive in the dynamic landscape of social media while staying true to yourself!

Read more to find out what you'll learn!
Lesson 1: Finding Your Niche 🌿🌸
The first step in creating a cohesive social media presence is deciding what you're going to talk about. "Niche down" to stand out in the green industry and let your audience know what they can expect from you.

Lesson 2: Crafting a Niche-Centric Bio 🌱
Your bio is the virtual gateway to your content world. Discover how to optimize your name, username, imagery, and hashtags to make a strong first impression and attract your target audience effectively.

Lesson 3: Mastering iPhone Photography 📸
Achieve top-notch photography with just your smartphone! Learn essential tips for content creation, ensuring high-quality visuals that captivate your audience without the need for fancy equipment.

Lesson 4: Showcasing the Human Touch 📸
Foster meaningful interactions and build a thriving community on social media by incorporating hands-on elements, faces, and compelling calls-to-action in your posts and stories.

Lesson 5: Navigating Negativity with Professionalism 🚫
Handling criticism and negativity with grace is essential for maintaining a positive and respectful social media environment. Learn how to use moderation tools judiciously and respond thoughtfully to adversity.

Lesson 6: Unveiling the Power of Affiliate Sales 💰
Leverage affiliate sales to build partnerships, generate revenue, and promote products relevant to your niche. Discover best practices for working with affiliates and tracking your performance.

Lesson 7: Mastering Algorithm Ranking 🚀
Unlock the secrets to increasing your rank with algorithms and boosting visibility on social platforms. Consistency, engagement, and captivating content are the pillars of algorithmic success.

Lesson 8: More Ways to Connect with Your Audience 🌟
Expand your reach beyond social media by building a dedicated email list. Learn how to create compelling newsletters that offer exclusive insights, fostering a stronger connection with your audience.

Lesson 9: Spark Your Creativity with 10 IG Story Ideas 📸
Take your Instagram Stories to the next level with these 10 creative ideas that captivate your audience and keep them engaged in your content.

Lesson 10: Decide to be a Good Influencer 💡
Embrace authenticity and compassion to leave a lasting impact on your audience. Spread positivity, offer value, and engage with heart to create a nurturing community online.

Social Studies is the ultimate resource for businesses seeking to bolster their social media presence, enhance content creation, and build authentic connections with their target audience. Take advantage of the opportunity to receive insights, expert tips, and actionable strategies to empower your garden industry brand and unlock social media success, one week at a time.
Sign up today and launch a transformative journey toward social media success!