While they didn't take our color advice from our 2019 Garden Trend Report this year, the Pantone Color Institute has announced that 2019 will be all about Living Coral.

The color represents "playful expression," and our "innate need for optimism." (After this year, we can use all the innate optimism we can get.)
Living Coral is technically a "coral hue with a golden undertone"—a few shades louder than pink, but softer than red.
Read more to learn about how to apply Living Coral to your garden this year.
There are countless ways to add coral into your garden palette this year, from simple tulips to unique rain lilies. Here are a few of our favorites.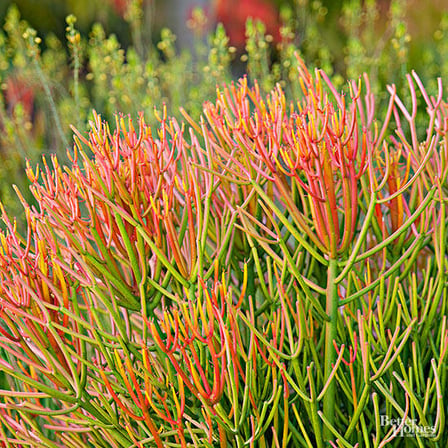 Euphorbia
If you live in a frost-free region, be sure to include Euphorbia in your rock garden. This amazing family of succulents comes in a seemingly endless selection of shapes, sizes, and colors. They are extremely heat- and drought-resistant and they have shallow root systems that allow you to easily tuck them into the tight spots between rocks and boulders. Most Euphorbia grow 4-8 inches tall, but there are a few that can grow 6 feet tall, so read the label before you purchase one for your rock garden. In the north, you can still enjoy Euphorbia by planting them in a large, flat dish and setting it in the center of the garden. When frost threatens, just bring it indoors.
Botanic Name: Euphorbia sp.
Zones: 9-11 (depends on variety)
Light: Full sun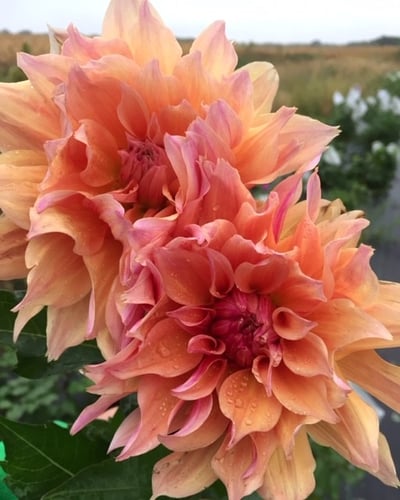 Dahlia
Once you start growing dahlias you'll be hooked. They come in every imaginable shape, size and color. I fell madly in love with one from a girlfriend's garden. She grows dahlias for cut flowers and so should you. They last weeks in a vase and they bloom for an exceptionally long time in the garden. There are small, single flowered varieties that are just 10-15" tall, perfect for the front of the border. And there are giants that top out at 5-6' tall. Give them plenty of sunshine and an organic fertilizer like Espoma's Bulb-tone to perform to their fullest potential. Taller varieties need staking and you'll need to lift the tubers in the fall but it's easy to do and rewarding. The tubers get bigger every year delivering more flower power. You can read more about them at Bulb.com my go-to for all things bulb related.
Botanic name: Dahlia
Zone: 8-11
Light: Full Sun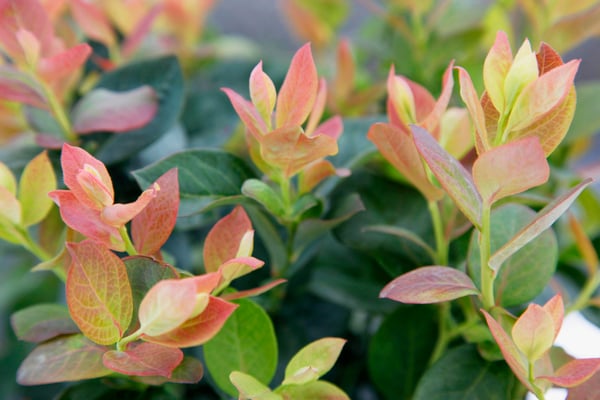 Peach Sorbet Blueberry
You may not think of blueberries as landscape plants, but maybe you should. Today's hybrids are beautiful and vigorous with great fall color. I must have a dozen of them in the garden and my favorite is Peach Sorbet. Each spring new foliage emerges with a coral, pink and peach color. It's simply gorgeous and always draws attention from visitors. The white flowers are bell-shaped and attract pollinators. The berries ripen in late summer and are delicious if you can get there before the birds do. The fall color is a deep shade of plum. All blueberries like acidic soil, Holly—tone is a good fertilizer for acid loving plants. No garden? No, problem. These do really well in large pots.
Botanic name: Vaccinium
Zone: 5-10
Light: Full sun to light shade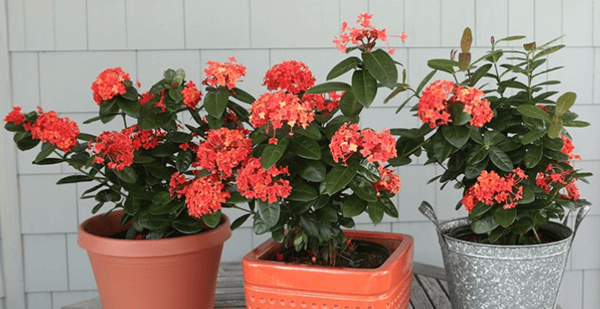 Ixora Jungle Flame
Even though Ixora isn't even remotely hardy in the mid-Atlantic region, I grow them as annuals like Hibiscus. While they may seem pretty common in a Florida landscape, they look rather exotic here. The color of Jungle Flame is striking and can be seen from a distance in the garden. It's a color that blends well with almost any other making it easy to combine with other plants in the garden. They also have a naturally rounded form. They look very neat, almost formal in a pot. In fact, they aren't fast growers so no pruning is required. Best of all, they attract humming birds and butterflies.
Botanic name: Ixora
Zone: 10
Light: Full sun to light shade
Pantone says their choice highlights an environmental treasure under threat: "Living Coral is evocative of how coral reefs provide shelter to a diverse kaleidoscope of color."
If you want to know more about 2019 trends, download our Garden Trends Report