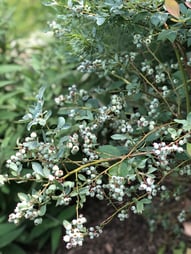 July is National Blueberry Month, a perfect time to celebrate the delicious and nutritious fruit.
We invite you to grow, eat, and cook with this powerhouse nature provides.
The health benefits of blueberries are widely known and continue to get attention as studies find even more super benefits from blueberries.
Among fruit, blueberries have the highest total antioxidant to help us fend off disease. They reduce belly fat, prevent hypertension, improve memory, and help to reduce the risk of colon cancer.
And let's be honest, they are delicious!
Read more to learn the Four P's of growing blueberries and two recipes.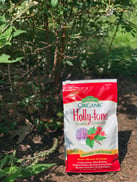 Buying and growing your own blueberries is a wise choice.
We love varieties from Bushel and Berry such as Blueberry Glaze and Peach Sorbet! These compact blueberry plants not only provide incredible fruit, their foliage is truly lovely as well, from spring to fall. And how convenient can it be to pot up a container and pick your fruit fresh right off your deck or patio.
There are some simple tricks to growing blueberries though, and we call them the Four P's. Watch Katie explain how planting, pruning, picking and protecting are key to a healthy shrub.
There are endless ways to use blueberries, from straight off the vine to salads, drinks, muffins, cakes - you can add them to practically any dish that you imagine.
We've pulled two great recipes for you to consider enjoying this powerful fruit.
James Farmer's Blueberry Oatmeal Drink
3 tablespoons oatmeal
Pinch of salt
1 cup boiling water
1cup blueberries
2 heaping teaspoons local honey
6 tablespoons plain Greek-style yogurt, divided
Berries, granola, or nuts for garnish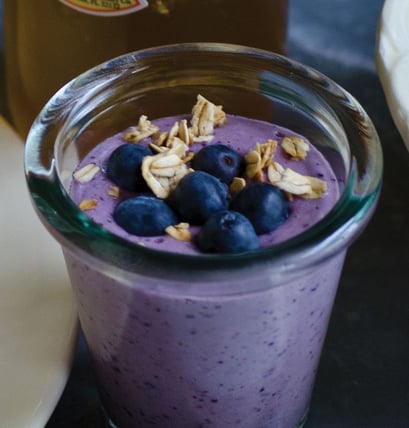 Spoon oats into heatproof bowl and mix with the salt. Cover with boiling water and allow to stand for 10 minutes. Place the soaked oats in a blender with the berries, honey, and 4 tablespoons of yogurt. Blend well and scrape the sides of the blender as needed. Pour blended mixture into two glasses and swirl 1 tablespoon yogurt into each glass. Garnish..
Kate's Easy Blueberry Cake
1 cup flour
1 cup sugar
Stick of butter
2 eggs
1 teaspoon baking powder
1 Tablespoon vanilla
3 Tablespoons sugar
2 teaspoons cinnamon
Powdered Sugar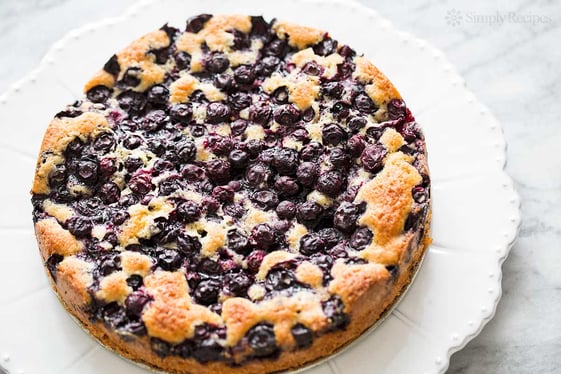 Cream the butter and sugar. Add the eggs and vanilla. Add flour and baking powder. Stir. Grease a 9"springform pan. Sprinkle 2 cups of blueberries on top. Sprinkle with the sugar and cinnamon. Bake at 350 degrees for 45-55 minutes. Cool cake for 10 minutes before removing the form and sprinkle with powdered sugar. Can be served warm.
And no worries if you have lots and lots of blueberries, you can freeze them without doing any damage to their antioxidant power, which means you can grow, enjoy and store for year-round pleasure.
Happy National Blueberry Month!