As a garden business or horticulture PR professional, you know that securing top-tier media placements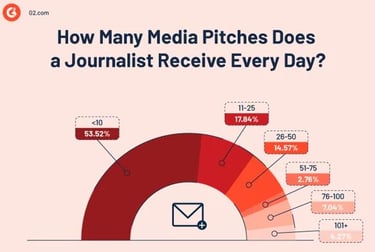 can significantly boost your brand's visibility and credibility. Heck, why lese would you be reading our blog?
However, getting the attention of journalists amidst a sea of competing pitches can be challenging. Especially in today's market of freelancers and AI, it's hard for PR pro's and journalists alike to know who to trust.
There is not one key to breaking through the noise, but it starts with finding the right person to pitch. Journalists are tired of PR pro's who don't do their research or understand what they write about, their beat.
Once you find the right person, however, the magic lies in crafting compelling pitches that resonate with journalists and their audiences.
There are a few essential steps to land top-tier placements: determining a compelling angle and writing a pitch that stands out.
Read on to learn How to Land Top Tier Placements with compelling pitches.
Determine a Compelling Angle
To capture a journalist's interest, you need a strong angle that makes your story unique and relevant. Here are five elements to consider when crafting your angle:
Timeliness: Tie your story to current events or trends. Journalists are always looking for timely stories that captivate their readers.
Impact: Explain why your story matters and how it can make a difference. Highlight the significance of the topic from both a broad and personal perspective.
Human Interest: Incorporate real-life examples or anecdotes that add a human touch to your pitch. People connect more with stories that evoke emotions.
Conflict: Present a problem and propose a solution. Addressing conflicts and challenges in your pitch can make it more compelling and newsworthy.
Assets: To back up your pitch, provide valuable assets such as data, infographics, videos, past interviews, and high-quality photos. These assets can enhance the story's credibility and visual appeal.
Call to Action: End your pitch with a clear and concise call to action. Whether it's an invitation to an event, an interview opportunity, or a request for further discussion, make it easy for journalists to respond.
Write the Pitch
Now that you have a compelling angle, it's time to craft an engaging pitch that catches the journalist's eye:
Customized Intro: Personalize your introduction by referencing a past story the journalist has covered. Show that you've done your research and that your pitch aligns with their interests.
Subject Line: The subject line is the first thing a journalist sees, so make it a teaser that piques their curiosity. A/B test different subject lines to see which one performs better. Additionally, take note of how journalists write their headlines and try using a similar style in your subject line.
Landing top-tier media placements requires a strategic approach and a well-crafted pitch. By determining a compelling angle that incorporates timeliness, impact, human interest, conflict, and valuable assets, you can increase your chances of capturing a journalist's attention. Remember to personalize your pitch and subject line, and be prepared with follow-up angles to keep the conversation going.
Mastering the art of compelling pitches takes time and practice, but with dedication and creativity, you can secure those coveted top-tier placements that elevate your brand to new heights. So go ahead and put these tips into action, and watch your garden media coverage soar!
Not sure how to do this on your own? Let us help. Contact us for a free consultation.