Today on Grow! With Katie, we got to *virtually* hang out with our bestie and best-selling author and speaker, Brie Arthur (shhh, it's her birthday!).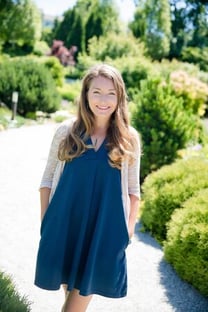 Brie's first book, The Foodscape Revolution, laid the groundwork for realizing the full potential that every landscape offers, planting with purpose to grow fruits and veggies alongside traditional plantings. What a perfect topic for right now!
Victory Gardens are making a comeback as people are turning to their own yards and gardens for groceries during this stay-at-home order. Brie has been taking advantage of her at-home grocery store since 2006, starting with just some land and some seeds, showing that growing your own food is a long-term bountiful investment. Kale, heirloom tomatoes, lettuce, arugula, chard, even barley. The opportunities are endless when your grow your own veggies, fruits and grains.
Check out Brie's blog to read about what she is growing and her tips & tricks!
Brie offers an 8 series online gardening class that teaches all you need to know about gardening in large and small spaces. This class takes place right in her own foodscape backyard.
In her online class, she covers:
Successful seed starting
Creating nutritious soil
Foodscaping: incorporating edibles and ornamental plants in the same area
Growing vertically
Hydroponics
Growing tomatoes in small spaces
Maximizing success in containers
Plus: how to test soil, pair plants, seasonal tips and much, much more!
If you missed it, watch this episode of Grow! With Katie, here!