Today's guest on Grow! with Katie LIVE is landscape designer, Nick McCullough!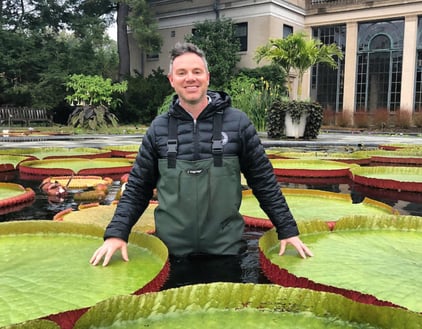 Nick grew up in Ohio and Iowa, watching his dad and uncles working in agriculture, which gave him his love of being outdoors. He knew from a young age that he was going to be a landscape designer.
He attended The Ohio State University and earned a degree in Landscape Horticulture and a minor in History of Art.
At OSU, he had the opportunity to study landscape design in Northwest England, which made a profound impact on him and his design style. Now, many of his projects as ties to the classic design elements found in the English countryside.
He has owned and operated McCullough's Landscape & Nursery, LLC since 1997, which is family operated. The business is a blend of his design aesthetic, their midwestern roots, and a genuine love of making exceptional properties truly extraordinary.
Nick started his website and blog to share his inspiration and knowledge to gardeners everywhere. He hopes to provide guidance, tips and how-do basics.
He has become one of Pinterest's most recommended gardening pages with his modest following of 3 MILLION. Check it out here!
You can also find him on Instagram, where he shares his own garden photos and the work that he does.
On today's episode, Nick shared with us some tips on landscape design, how to get started, and his favorite plants to landscape with!
Watch this episode of Grow! with Katie LIVE with Nick McCullough.