Today on Grow! With Katie, we had the pleasure of welcoming Maria Failla! Maria is a self-proclaimed "Plant Killer turned Plant Lady" on a mission to help every person successfully care for houseplants- no matter how small their home is.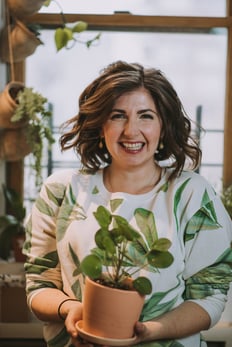 Maria is the owner and host of the Bloom and Grow Radio Podcast, where she interviews different "Plant People" and experts to find houseplant care tips, stories and lessons to help her listeners find inspiration and feel empowered to start their own houseplant collection.
Want to start tuning in to Maria's podcast? Here ya go!
Maria has a YouTube channel, also called Bloom and Grow radio, which is a one stop shop for all things plants. From green thumb videos for beginners, to garden tours, to houseplant home makeover videos, and the occasional humorous video, like one of her recent videos titled "Plant Friendly WERKout Routine", where she uses her plants to help her with her at-home workout routine during this Stay-at-Home order.
Check out that video and the rest of her YouTube videos here!
Behind the scenes of Maria's thriving houseplant life, she is also a huge star in the theater world! She earned her Bachelor of Music from The Shepherd School of Music at Rice University. Touring is no new task for her, as she has traveled all over world performing in musicals including her most recent Broadway tour of Cats. With her being gone for long periods of time while performing, her fiancé steps up and takes over the role of "houseplant caretaker" and cares for their 150+ houseplants, which she just spoke about on her podcast last week.
Maria shared with us her tips for getting houseplants ready for spring!
Watch today's episode of Grow! With Katie to find out what they are!