Today on Grow! With Katie, we got to catch up with our own Peggy Anne and her husband, Dan Benarcik. This dynamic gardening duo knows their stuff and loves to share their passion with each other and others!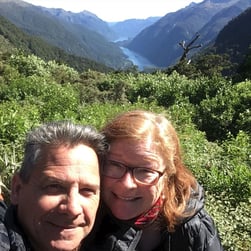 Peggy Anne Montgomery is a people-oriented horticultural professional with more than 30 years of U.S. and international experience in trade and consumer-focused garden marketing and communications, public relations and outreach, landscape design, and public horticulture.

She studied horticulture and apprenticed for 4 years in the Netherlands and owned a landscape design firm for 10 years. Peggy Anne went on to study native plants at Mt. Cuba Center in Delaware and at Longwood Gardens in Pennsylvania. She is currently an account executive for the Garden Media Group, the primer horticulture marketing firm.
She has an extensive background in public relations and has truly gotten her hands dirty in the industry with so many projects and appearances, including:
• She was part of the creative team that launched the Endless Summer Hydrangea brand.
• She is a long-standing member and Fellow of the Garden Writers Association,
• She has written for numerous trade and popular publications such as:
o American Nurseryman
o Better Homes & Gardens
o Fine Gardening
o Organic Gardening
o PHS's GROW Magazine
• She has also appeared on the following TV programs
o Prairie Yard and Garden
o Hometime
o Growing a Greener World
• She is a volunteer for the Delaware Center for Horticulture and many other horticultural institutions in the Greater Philadelphia area

Today she lives and gardens with her husband and fellow GWA'er, Dan Benarcik in northern Delaware.

Dan attended the University of Delaware and graduated with a Bachelor of Science degree in Plant Science. He then started building up his many years of experience in the industry, including his position as Woods Path gardener at the Mt. Cuba Center, dedicated to the research and protection of native plants and a sales representative for Imperial Nurseries, a large East Coast re-wholesaler of landscape plants. Then in 1993, Dan went to work for Chanticleer Garden in Wayne, PA. At Chanticleer, Dan oversees the Courtyard Gardens with an emphasis on tropical, sub-tropical and tender perennials for seasonal display.

He also has a second career; he is a public speaker. He is very passionate about gardening and he wanted to share that with others through speaking. He also joined the Garden Writers Association and is currently a Regional Director. Some of his writing has appeared in:
• Fine Gardening
• Horticulture
• Martha Stewart Living
• Rodale's gardening books
For Dan, the next step was television; he promoted plants on QVC for Cottage Farms Nursery and he was featured on episodes of Cultivating Life.

In his remaining free time, he is part of the continuing education program at Longwood Gardens where he teaches the Groundcover classes, he volunteers for The Delaware Center for Horticulture's Rare Plant Auction as part of the Plant Selection Committee and a Plant Expert, and of course, gardens at home with Peggy Anne.

What a horticulture power couple these two are! Check out this episode of Grow! With Katie.