Today's guest on Grow! with Katie is Mike Rimland from Costa Farms.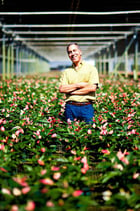 Mike has been with Costa Farms for 10 years and is the Director of Research and Development for Houseplants and he has 40 years of plant hunting, breeding and production experience.
He is also called the Costa Farms Plant Hunter.
Mike's job involves him travelling the globe, looking for new and different plants.
His favorite plant discovery to date, is the Colorful Aglaonemas (nicknamed Colorful Ags), which he says is a game changer for indoor plants. Check them out here.
Mike was also part of the team from Costa Farms that won the coveted AIPH International Grower of the Year Awards in 2016 and he is currently a member of the awards jury.
Costa Farms recently released a short movie all about Plant Hunting with Mike. "Go behind the scenes with Costa Farms' Plant Hunter Mike Rimland to discover what goes into finding your favorite new houseplant varieties and getting them to you – including the ones in our Trending Tropicals® Collection." Watch it here!
Follow Mike on Instagram and give Costa Farms a follow while you are there!
Watch today's episode of Grow! with Katie with Mike Rimland from Costa Farms!
5