Today's guest on Grow! with Katie LIVE is author, speaker and garden designer, Sue Goetz!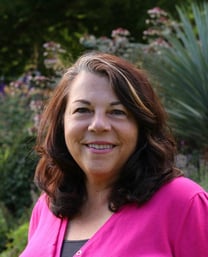 Sue has a garden design business, Creative Gardener, where she works with clients, personalizing garden spaces from the seasonal tasks to the design of large projects.
She has earned many awards including:
Gold medals at the Northwest Flower & Garden Show
The Sunset Magazine Western Living award
Fine Gardening best design award
The American Horticultural Society Environmental award.
Her home garden was featured in Northwest Home & Garden magazine and the County Gardens magazine. WOW.
Sue is a certified professional horticulturalist (CPH) with the Washington State Nursery and Landscape Association (WSNLA), she is Eco Pro Certified, a member of the Association of Professional Landscape Designers (APLD), the Northwest Horticultural Society AND she is a member of GardenComm. Is there anything this woman doesn't do?!
Writing and speaking are two of her favorite ways of sharing her love of gardening with others.
In 2012, Sue was named educator of the year by the WSNLA and her work has appeared in numerous publications including:
Tacoma News Tribune
Seattle Met
APLD Designer Magazine
West Sound Home & Garden
Fine Gardening Magazine
Sue can be found on Instagram and Facebook!
On today's episode of Grow! with Katie, we talked about how to put together an herb container garden, how to winterize it, and some of her best tips to successful indoor herb gardening.
Watch this episode of Grow! with Katie LIVE with Sue Goetz.