Today's guest on Grow! with Katie is Sheila Sanford of White Moth Wisdom.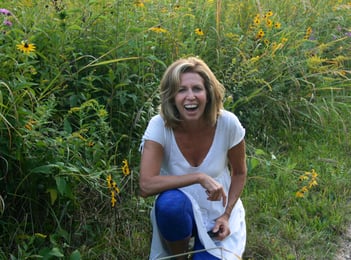 Sheila is a community herbalist, mother of three, gardener, cook and Ayurvedic practitioner. Devoted to the study of horticulture for over 20 years, she has spent the last five focusing specifically on the art and practice of Herbalism.
Sheila's pursuit of horticultural studies began at Longwood Gardens, where she received a Certification of Ornamental Plants. Working with medicinal herbs in her own garden in the sprawling countryside of southeastern Pennsylvania, she began studying with Dr. Paul Dugliss, founder of the New World Ayurveda School.
After completing a 600-hour course on this ancient Indian system of healing, she began a two-year Herbalist Training program under David Winston, renowned herbalist, ethnobotonist, and author. Sheila currently studies with Dr. Tieraona Low Dog, an internationally recognized herbal medicine expert, clinician, educator, author, and advocate for natural medicine.
In a community without many natropathic resources, Sheila is building an initiative to provide preventative medicine and natural healing options, working in tandem with the strong arm of traditional western medicine. Through educational workshops, garden therapy, and individual consultations, she shares her passion for nature and herbal healing with her community.
On today's show, Sheila gave us a few herbs to use for anxiety and headaches. These are adaptogeneic herbs such as ashwagandha, ginseng, and milky oats. Sambucus Nidris is good to use for fever relief!
Watch today's episode of Grow! with Katie LIVE with Sheila Sanford.