Today's guest on Grow! with Katie is author and speaker, Shawna Coronado.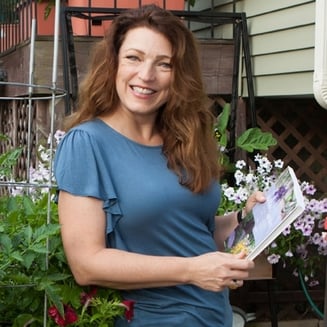 Shawna was diagnosed with severe degenerative osteoarthritis of the spine, and her world was flipped upside down to the point not being able to sleep and she could barely walk. She has used her diagnosis and healing process as a way to inspire others who are going through medical difficulties.
"I feel like I was gifted with this horrible inflammatory lemon and have been given a mission in life to change it into the grandest most delicious anti-inflammatory lemonade cocktail ever."
Her mission – to help people feel better and live well – can help you think better as well. "Healthy diet. Healthy body. Healthy brain."
She is the author of seven books, including her most recent, The Wellness Garden: Grow, Eat, and Walk Your Way to Better Health. All of her books can be found here!
Shawna's work has been featured in:
First for Women Magazine
Edible Gardening Magazine
Costco Connection
Chicago Tribune's
Remarkable Woman section
DIYNetwork site
Small Yard Gardening Magazine
Shawna covers everything surrounding sustainable ideas; health and wellness, eco-travel, sustainability tips, organic gardening, healthy anti-inflammatory cooking, and techniques for every day homeowners to make a difference.


Her social media following shows how truly inspirational she is, and the impact that she has had on others. Check out her Facebook, Instagram, YouTube, Pinterest and Twitter!

On today's show Shawna gave us 3 tips from her book, Stacked with Flavor, to make your healthier food taste better!
Roast your veggies until they are almost black
Add your own homemade seasoning mixes
Sear your meats on the stove before your put them in the oven to cook, this locks in the moisture!
Watch today's episode of Grow! with Katie with Shawna Coronado to get more great tips and advice!