Today's guest on Grow! with Katie was Rochelle Greayer of Pith + Vigor!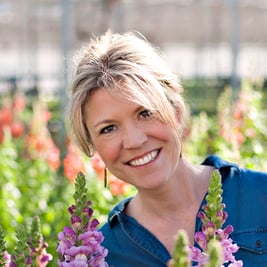 Growing up in Colorado, Rochelle wanted to be an astronaut. Shortly after learning to drive, she learned to fly. She obtained a degree in Applied Physics, and after college she landed her dream job with Hughes Aircraft, building F-18 flight simulators and launched satellites around the globe. Although she never made it to space, her work did.
After career and interest changes, Rochelle started Pith + Vigor, wrote a book, started a magazine AND a newspaper. After all of these successes, Rochelle found a new love for wanting to teach.
Now, Rochelle devotes lots of time to her garden design and landscape design bootcamps.
On today's show, we got so many great tidbits and pieces of advice. She told us to not be slaves to our boundaries, break away from the arbitrary linear plans of gardens and find what works best for your landscape, and to not set yourself up for failure by putting your plants where they will not thrive. Keep your plants happy and they will make you happy!
With such a large social media following, including over 117k followers on Instagram, so many people are being touched by Rochelle and her amazing work.
Check out this episode of Grow! with Katie and get to know Rochelle and learn all of her great pieces of advice!