Today's guest on Grow! with Katie is the Garden Manager of McMenamins Anderson School, Riz Reyes.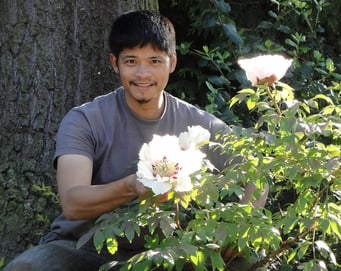 The Anderson School was built in 1931 as a junior high school, and has since been renovated into a one-stop-shop for fun. Offering dining, moviegoing, live music, swimming, games, shopping, private events, meetings, tastings and all-around enjoyment for visitors of all ages, it is the place to be!
As we mentioned, Riz is the Garden Manager at the McMenamins Anderson School. The property has incredible tropical gardens surrounding it that you can stroll through and "smell the roses".
On today's show, he gave us a great garden tour and we got to see so many plants that we know and love, and some that we had never even heard of!
You can find Riz on Instagram @rhrhorticulture.
Riz also has his own business, RHR Horticulture which showcases his incredible garden design work and teaches about diversity in the garden.
He will be involved in the Northwest Horticulture Society Virtual Symposium this week, along with four other speakers, teaching about the diversity in the garden and why it is so important. Learn more and register here!
Watch today's episode of Grow! with Katie LIVE with Riz Reyes.