Today's guest on Grow! with Katie is Peggy Riccio of PegPlant!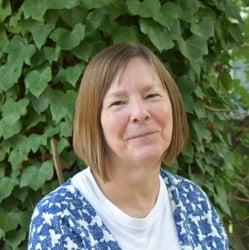 Peggy is a garden writer, speaker and blogger out of the DC area. She has her own website, PegPlant.com, as well as a podcast with our good friend, Teri Speight, called Gardens n' Plants where they talk about what they are growing, how their plants are doing, and all things gardening!
Peggy is an expert when it comes to cooking with herbs, especially for the holiday season.
On today's show, she shared with us so many great recipes and ideas to try for Thanksgiving dinner this year, including different butters and spreads, teas, turkey rubs, stuffing, desserts and even how to use herbs as a decoration for the table!
Peggy shared with us a few easy herbs for beginners to grow and cook with: Thyme, parsley, mint, sage, and rosemary.
She also gave us a great cooking tip when using fresh vs. dried herbs: For every 1x of dried herbs that you would use for a recipe, use 3x that in fresh herbs. For example, if you are cooking with fresh herbs and the recipe calls with 1 tablespoon of dried parsley, use 3 tablespoons of fresh parsley!
We also talked about Peggy's new Facebook page that she created called Culinary Herbs and Spices where people can swap recipes, tips and tricks, advice, and photos of their herb-food creations! Go join in on the fun!
This episode was a bittersweet one, as it is the final episode of Grow! with Katie (for now), but we are glad that we got to spend it with Peggy!
Watch this episode of Grow! with Katie LIVE with Peggy Riccio!