Today's guest on Grow! with Katie is Patricia Buzo, creator of Doodle Bird Terrariums.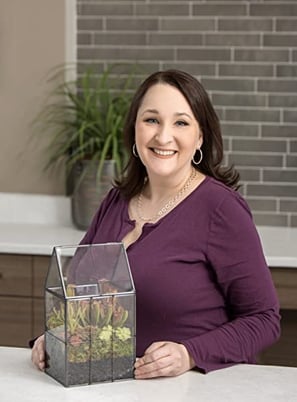 A terrarium is usually a sealable glass container that holds soil and plants, and can be opened for maintenance to access the plants inside. However, terraria can also be open to the atmosphere rather than being sealed. Terraria are often kept as decorative or ornamental items.
Doodle Bird Terrariums was found in 2008 by Patricia out of her love of plants and creating unique works people would treasure. Now, 12 years later, she continues to perfect her terrarium art and design skills. Each piece is handcrafted using the highest-grade plants and supplies, and she utilizes special trick she has learned to carefully package these fragile vessels so that they arrive safe and sound.
Check out the gallery on the website to see the amazing terrariums that Patricia has created.
Patricia is also the author of A Family Guide to Terrariums for Kids! If you are finding yourself homeschooling this year or doing a hybrid of at-home and in-school for your children, this book could be a great way to help your kiddos to get involved with terrariums and learn something new. (And it's only $5 more for a signed copy!)
On today's episode, Patricia shared with us so terrarium care tips, her favorite plants to use in them, and told a fun story about how she first became interested in plants!
Watch this episode of Grow! with Katie with Patricia Buzo.