Today's guest on Grow! with Katie is Niki Jabbour of Savvy Gardening!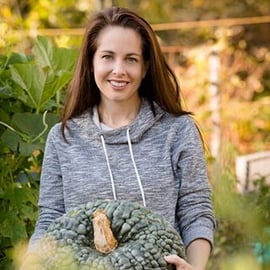 Niki Jabbour is the award-winning author of three books - The Year-Round Vegetable Gardener (2012 American Horticultural Society Book Award), Groundbreaking Food Gardens, and Niki Jabbour's Veggie Garden Remix (Winner of the 2019 American Horticultural Society Book Award, Winner of the Gold Award from GardenComm, and short-listed for a 2019 Taste Canada Award).
She also writes for magazines like Fine Gardening, Horticulture, and Birds & Blooms. Niki is an in-demand speaker, offering seminars and keynotes at events, shows, societies, and greenhouses across North America such as the Northwest Flower & Garden Show, The Dow Gardens, The Philadelphia Flower Show, The Boston Flower Show, and Canada Blooms.
For the past 12 years, Niki has hosted and executive produced her popular radio show, The Weekend Gardener which airs on News 95.7 FM in Halifax as well as online. For her broadcasting work, Niki won the 2015 Gold Award from GardenComm as 'Best On-Air Talent'.
Niki is very active on Instagram, Facebook and Twitter and you can find her gardening videos on Youtube. When she's not writing, speaking, or broadcasting about food gardening she's in her twenty raised bed vegetable garden in Halifax, Nova Scotia.
Today we talked about succession gardening and she gave us so many great tips and tricks!
Watch today's episode of Grow! with Katie LIVE with Niki Jabbour.