Today's guest on Grow! with Katie, for Houseplant Wednesday, is Nick Pileggi of Philly Foliage!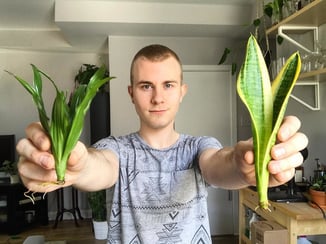 Nick's love of houseplants began when a friend pointed out that he has none in his apartment, which came to a shock to him since he loved gardening with his father growing up. A Dracaena Fragrans or "Corn Plant" resparked his interest in plants and he now has over 120 houseplants!
He truly believes that no one has a "black thumb", you just have to find the plants that work for you. "If you find your plants dying from neglect, try out a Snake Plant. On the other hand, if you think you might be a little heavy-handed with the watering can, I'd consider a Prayer Plant." Find what works!
Nick's love of all things houseplants has grown into massive social media followings including his 51.9K followers on Instagram and his 65K subscribers on YouTube!
On his YouTube channel, you can find houseplant tips, unboxings, tours, plant care videos and so much more.
On today's show Nick shared some of his favorite houseplants, some plants that he feels are a bit overrated and showed us how to properly propagate and gave great tips and tricks!
Watch today's episode of Grow! with Katie with Nick Pileggi of Philly Foliage!