Today's guest on Grow! with Katie is the owner of American Meadows, Mike Lizotte AKA the Seed Man!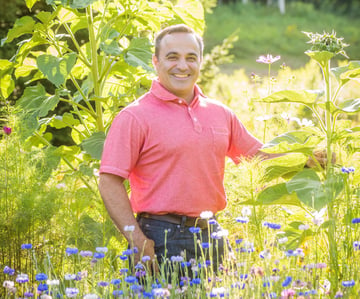 American Meadows is one of the most respected online retailers of wildflower seeds, perennial plants, flower bulbs and vegetable seeds in all of North America. Their people have been helping supply gardeners since 1981. They seek to be a trusted gardening partner for creative gardeners —those who are willing to combine new ideas and products with classic favorites.
Their customers range from some of the most experienced horticulturists in the country, to those who simply want to add a little color to their life, and everyone in between.
Currently, up to 15,000 gardeners per day visit the website, and have made it their gardening headquarters. They are known for both the quality of their products and the extensive "How-To" information on the website, all created by American Meadows to help their customers share in the joys of gardening with minimal investments in both time and money.
American Meadows contracts with growers around the globe to provide the best possible quality and variety available in our industry today, but all of their wildflower seed sacks are still hand-packed by their staff.
Much of their wildflower seed comes from the fertile growing regions of central California and Oregon, while other species are produced in Europe, Africa and Asia. Regardless of origin, however, all are carefully inspected and tested.
All of the mixtures are created using their own strict recipes, based on decades of both experience planting the seeds ourselves and talking with many of the million-plus wildflower gardeners from all over North America who have planted their seeds.
On today's show, there was a giveaway! One viewer who watched LIVE and actively commented won a 1lb bag of Regional Wildflower Mix and a signed copy of Mike's book, Mini Meadows: Grow a Little Patch of Colorful Flowers Anywhere around Your Yard.
Watch today's episode of Grow! with Katie with Mike Lizotte!